Purdue University is getting a good one. Congratulations and good luck in West Lafayette.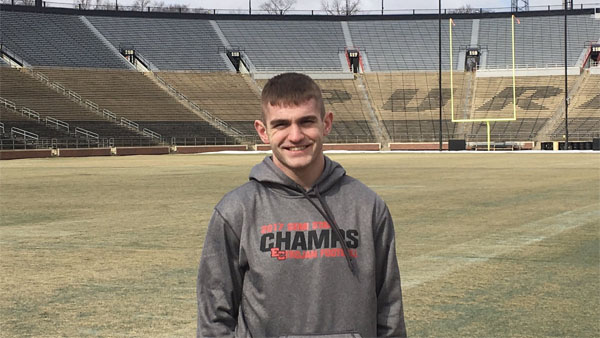 Alex Maxwell at his future football home, Purdue's Ross Ade Stadium. Twitter photo.
(St. Leon, Ind.) – Teams in the Eastern Indiana Athletic Conference can breathe a little easier now that East Central quarterback Alex Maxwell is on his way to college.
On Tuesday, the Trojans' star announced on his Twitter page that he will be continuing his academic and athletic career at Purdue University.
Maxwell will join Coach Brian Brohm's Boilermakers as a preferred walk-on this fall. He also plans to study engineering.
I am beyond blessed to announce that I will be continuing my academic and athletic career at Purdue University! Thank you to everyone who helped to make this dream a reality @BrianBrohm @Coach_JM_Jonard pic.twitter.com/WyPxFfFDVg

— Maxwell (@Alex_12Maxwell) February 26, 2019
The Boilers are getting a great football player and student, but an even better person.
On the football field, Maxwell will go down as one of the all-time greats in East Central history. Over his four years at EC, Maxwell helped his team to four sectional championships, three regional titles, two semi-state wins, one state runner-up and a state championship in 2017.
Maxwell's touchdown with 2:02 left in the fourth quarter of the state championship game turned out to be the game-winning TD as the Trojans pulled off the 14-7 upset of top-ranked and undefeated Lowell. It was the first time East Central had won the state title since 1994.
Individually, Maxwell's stats speak for themselves. His career totals include 2,563 passing yards, 3,692 rushing yards and 90 total touchdowns.
Trojans head coach Jake Meiners sums up what Maxwell has meant to East Central High School.
"Alex Maxwell is one of the best athletes to come through East Central High School," Meiners said. "Words cannot describe the impact that he has made during his four years here. Alex is well-respected all around the state. In his four years on the gridiron, he has won 4 Sectional Championships, 3 Regional Championships, 2 Semi-State Championships, 1 State Runner-up, and 1 State Championship. He has represented the "EC" with heart, character, and leadership. Not only has Alex proved himself on the football field and on the basketball court, Alex is in incredible student. He has won numerous academic awards and accolades. Alex has an incredibly bright future ahead of him, and I wish him nothing but the best! Boiler up!"
Before Maxwell re-focuses on football, he still has at least one more varsity basketball game to play. The Trojans (16-7) take on Shelbyville this Friday in a sectional semi-final at Columbus North High School.