Impressive wins over Lawrenceburg and Cincinnati Oak Hills have catapulted the Trojans to the top of Class 4A.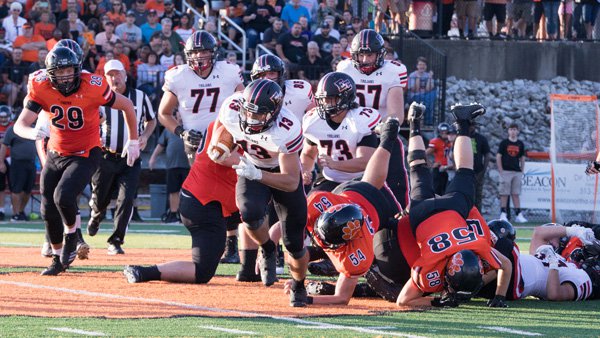 Jake Fike (13) runs away from the pack versus Lawrenceburg. Photo provided.
(St. Leon, Ind.) – The 2019 high school football season is in its infancy, but the East Central Trojans are already making a bunch of noise.
On Tuesday, the Trojans found themselves at the top of the Associated Press Class 4A poll, moving up two spots from third.
However, East Central does share the top spot in 4A with Mooresville after both schools received four first-place votes. The top 5 is rounded out by New Prairie, Martinsville and Mississinewa.
East Central deserves a lot of credit for their first two wins this season. In week one, the Trojans went on the road and defeated Lawrenceburg 30-12. Most believe the Tigers are one of the best teams in Class 3A.
Then in week two, East Central avenged their only regular season loss from 2018 with a 28-0 win over Cincinnati Oak Hills.
The Trojans' schedule doesn't get any easier with Harrison coming to St. Leon on Friday. With the exception of last year's 49-17 EC win, the previous four contests with Harrison have been decided by four points or less.
"Harrison is always a tough match-up for us," said Trojans head coach Jake Meiners. "They have a high-powered offense, led by Conner Kinnett and we expect them to throw the ball around on offense."
East Central will combat the Wildcats offense with one of the top defenses in Indiana. Through two games, the Trojans have allowed just six points per game, which ranks 15th in the state and 3rd in Class 4A.
Offensively, the Trojans are led by a strong running game. Through two games, junior Jake Fike has rushed for 319 yards and five touchdowns. Junior quarterback Ryan Bond has been solid too, going 20-28 with 274 yards and a touchdown.
"Our offense needs to keep building," said Meiners. "We still had too many mistakes against Oak Hills. We will look to correct those, not turn the ball over, and win the time of possession. It is a rivalry, so there will be many distractions. Our players need to focus on their assignments and take care of business."
Eagle Country 99.3 will have full coverage of the "War of I-74" this Friday beginning at 6:40 p.m.