Friends and family of Greiwe won't have to travel too terribly far to watch Greiwe at the collegiate level.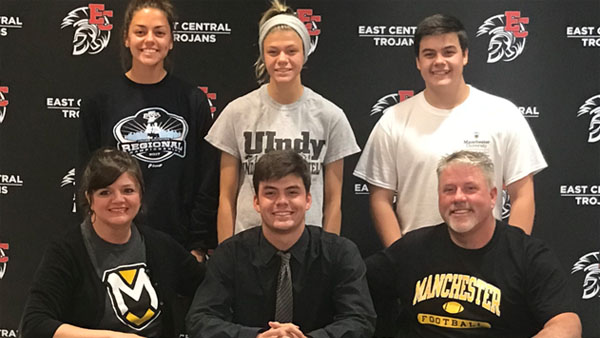 Pictured: Joett Greiwe, Evan Greiwe, Scott Greiwe, Lily Greiwe, Lauren Greiwe, Ethan Greiwe. Photo provided.
(St. Leon, Ind.) – An East Central Trojans football star is taking his championship pedigree to the collegiate level.
Evan Greiwe recently signed his letter of intent to stay in state to play football at Manchester University.
Greiwe, a 6'2", 185-pound linebacker, collected 53 tackles (6 TFL) as a senior.
During his four-year career, Greiwe was a part of four EIAC championships, four sectional titles, two regional championships, appeared in two semi-state games and won a State Championship in 2017.
Greiwe plans to get a Master's degree in Accounting at Manchester University.