East Central, Lawrenceburg, and South Dearborn all did great at the sectional tournament in Aurora on Saturday.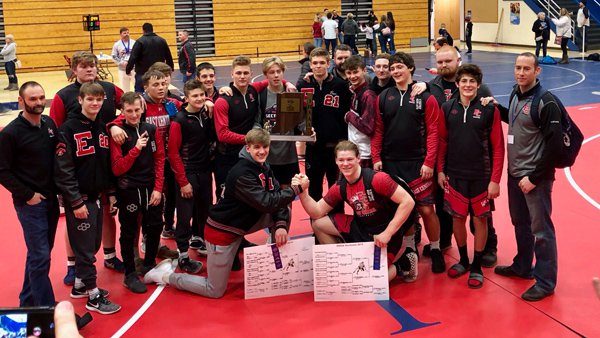 East Central emerged as the championship team at the IHSAA Wrestling Sectional Tournament at South Dearborn High School on Saturday, January 26. Photo courtesy East Central High School Athletics.
(Aurora, Ind.) – The IHSAA Wrestling Sectional Tournament at South Dearborn High School came down to the three Dearborn County schools duking it out for the sectional championship.
East Central emerged as the top team at Saturday's sectional meet in Aurora with 230.5 points. Lawrenceburg was a close second at 210 and South Dearborn third at 175.
The remaining team scores were Milan 135, Rushville 129, Connersville 113, Franklin County 103.5, Union County 72, Batesville 34, and Greensburg 26.
For East Central, the victory marks their first team wrestling sectional title since 2011.
The Trojans had three individual champions to lead a total of 11 wrestlers who finished top four in their weight class to advance to next weekend's IHSAA Regional at Richmond. Adam Negangard (19-1) won the 138 lbs. weight class as he took the final match in a tech fall on Franklin County's Adam Crouch with the score 18-1. Kole Veil (32-6) was the sectional champ at 182 lbs. in a 17-4 major decision over Rushville's Marcus Vaughan. Kyle Krummen (24-6) won at 195 lbs. by a 20-7 major decision against Evan Shafer of Connersville.
Second-place Lawrenceburg was led by two sectional champions. Spencer Gordon (19-4) took the 113 lbs. crown in a 15-11 decision over Rushville's Dylan Galusha in the final match. Grant Stapleton (31-0) won at 126 lbs. with a pinfall of Milan's Shane Lonneman in the final.
South Dearborn had the most sectional winners with four. Austin Boggs (24-6) won in the final match of the 132 lbs. bracket with a 6-1 decision against Lawrenceburg's Corbin Walston. Bryer Hall remained undefeated at 30-0 with a pinfall over East Central's Ben Wolf in the title match. Zach Otto (23-4) won at 152 with at 6-5 decision against Lawrenceburg's Andrew Roberts. Zach Dick had an early pinfall of Lawrenceburg's Ethan Parris to win the 220 lbs. sectional championship.
Milan had two Indians claim sectional championships. Garret Condo (32-1) was the winner at 106 lbs. with a 7-3 decision over Franklin County's Andrew Merritt in the final. Jacob Rohrig won 160 lbs. with a pinfall on Lawrenceburg's Andrew Roth in the second period.
Franklin County's sectional winner was Garrett Condo (same name as Milan's Condo, with an extra "t"). He defeated South Dearborn's Eli Otto with a 9-5 decision in the final.
Find full results from the IHSAA Wrestling Sectional at South Dearborn at http://www.ihsaa.org/Portals/0/boys%20sports/wrestling/2018-19/201819SouthDearbornSectional.pdf.
Jacob Rohrig
Sectional Champion pic.twitter.com/IS8JTb2hU1

— Milan Athletics (@MilanAthletics) January 26, 2019