The Lawrenceburg native is three-time Academic All Big-Ten selection and one of the best punters in the nation.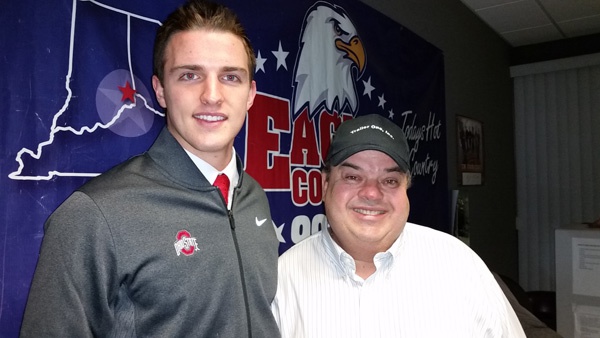 Drue Chrisman with Eagle Country 99.3's Bubba Bo. File photo.
(Lawrenceburg, Ind.) – Drue Chrisman is a semi-finalist for college football's premier scholar-athlete award.
The National Football Foundation and College Hall of Fame have announced a record 199 semi-finalists for the 2020 William V. Campbell Trophy.
The award recognizes an individual as the absolute best football scholar-athlete in the nation for his combined academic success, football performance and exemplary leadership.
To be nominated for the award, candidates must be a senior or graduate student in their final year of playing eligibility, have a GPA of at least 3.2, have outstanding football ability as a first team player or significant contributor and have demonstrated strong leadership and citizenship.
Chrisman, a Lawrenceburg native and former St. Lawrence School student, is one of the top punters in the nation and is a three-time Academic All Big-Ten selection.
Last season, Chrisman punted 46 times, averaging 44.3 yards per punt for the Ohio State Buckeyes. Due to his play, Chrisman was named a semi-finalist for the Ray Guy Award.
The NFF will announce 12 to 14 finalists for the Campbell Trophy in November. Each finalist will receive an $18,000 postgraduate scholarship.
Former winners of the Campbell Trophy include Peyton Manning, Tim Tebow and former Cincinnati Bengals running back Brian Leonard.
Learn more at www.footballfoundation.org.