State Finals will be held on Saturday, November 9, at New Castle High School.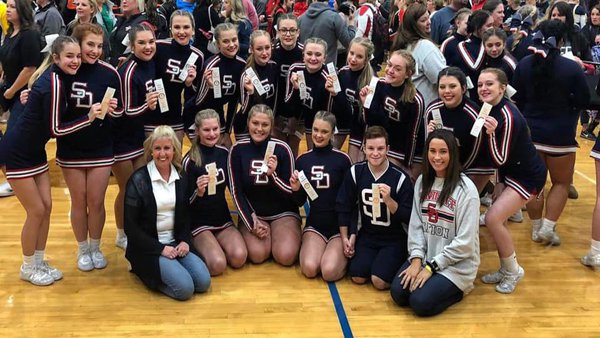 South Dearborn Cheerleading Squad.
Update published Monday, November 11 at 10:30 a.m.:
Indiana State Cheerleading Competition Finals were held on November 9, at New Castle High School.
South Dearborn High School placed 5th overall in the Coed Division.
Switzerland County High School placed 9th overall in the Varsity D Division.
Congratulations to all cheerleaders and coaches on your accomplishments!
Original story published Monday, November 4 at 6:44 a.m.:
(Greenfield, Ind.) - South Dearborn and Switerland County High School will be advancing to the Indiana Cheerleading State Finals this Saturday, November 9.
Going into the competition the Knights are ranked 5th in the Varsity Coed division, and Pacers ranked 9th in the Varsity D division.
The Varsity squads will be gearing up this week to hopefully bring home the state title at the end of the week.
South Dearborn cheerleading coach, Lori Rinehart, is a proud cheer coach this week. She tells Eagle Country, "I'm extremely proud of the effort this team has been showing throughout the season. They truly are dedicated to the sport and we are thrilled to be ranked 5th in the state of Indiana in the Varsity Coed division!"
Abby Fox, Switzerland County cheerleading coach, explains how excited she is for the girls and the future of the program by telling us, "As a team, our athletes-consisting of only nine girls- have matured in both skill and confidence. That combination gave us just what we needed to land among the top this year. I'm proud and excited to see what's next for this squad and the future of Switzerland County Cheerleading."
For more information and the Finals schedule, you can visit https://iasp.org/students/cheer/.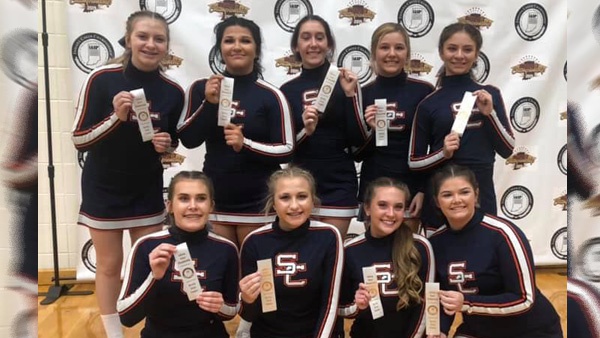 Switzerland County Cheerleading Squad.