Beacon Ortho works closely with East Central, South Dearborn, and Lawrenceburg high schools.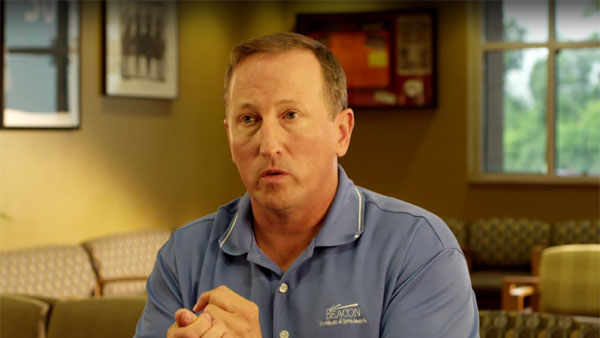 Dr. David Argo. File photo.
Dear Local High School Graduates:
This is one of my favorite times of year. I am an orthopaedic surgeon with Beacon Orthopaedics & Sports Medicine and team physician at East Central High School, Lawrenceburg High School and South Dearborn High School. In that role, I am afforded the great privilege of working with some of the finest local high school athletes, including many who will compete beyond playing for local high schools.
I have had the pleasure of knowing many of you personally. Most of the time, that is through your fully healthy pursuit of your personal and team athletic goals. Unfortunately, I know some of you best because you were injured in that pursuit. So our relationship has been one with pain, possibly surgery, treatment and recovery. By and large, I found you all to be hard working and dedicated to getting back on the field or court after adversity. That kind of commitment is what makes my work so rewarding. So thank you.
Frankly, even beyond just the athletes, I commend the entire class of 2021 for many things, but most impressive is how you have achieved the important milestone of high school graduation during a really difficult time in history. And while you students are to be commended, I also want to recognize your community -- your parents, teachers and coaches. Without that adult mentorship and involvement, the once-in-a-lifetime pandemic might have frozen you graduates in place. Instead, I believe those dedicated adults helped secure an environment for your success.
This year's graduates includes some of the strongest and most resilient student athletes I have had the pleasure of working with. You will be a tough act to follow!
And to the entire Class of '21, you have the whole world ahead of you. No matter what your next steps in life, congratulations for all you have endured, worked through, studied, rehearsed, learned and achieved. Your hard work and dedication will pay dividends. And specifically to those of you who are continuing to play a competitive sport at the next level, know that your friends at Beacon Orthopaedics will always have your back. If you get injured, want to discuss pre-season workouts or you have concerns about your training, do not hesitate to contact us.
We are proud of you and we are rooting for you!
Congratulations and take care!
David Argo, M.D.
Beacon Orthopaedics & Sports Medicine