According to the CDC, about one in four adults (28%) age 65 and older report falling each year.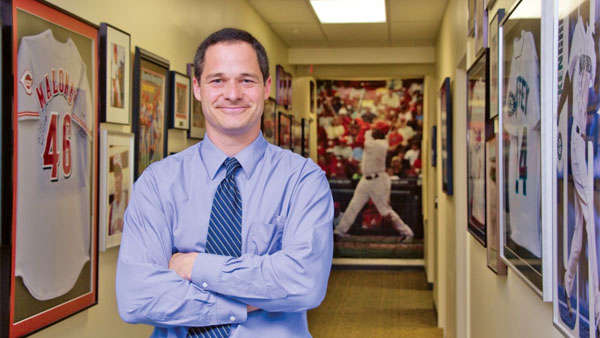 Dr. Matthew Johansen.
According to a study done in 2018 by the Centers for Disease Control (CDC), about one in four adults (28%) age 65 and older report falling each year. From those falls, about eight million people reported injuries that restricted activity and/or required some medical treatment.
The medical professionals at Beacon Orthopaedics & Sports Medicine offer a few very simple things you can do to avoid being injured if you do happen to fall.
Stay physically active.
Exercising regularly is a great way to improve strength and flexibility. "Post-surgery, my goal is always to help a patient get back to enjoying pain-free activities," said Dr. Matthew Johansen, a board-certified orthopaedic surgeon at Beacon. "However, if they can remain strong and flexible by staying physically active, even a fall may not cause as severe an injury."
Work on balance and strength training.
It makes sense that regular exercise builds muscles, making us stronger. However, as we age, it's also important to know that exercise helps keep our joints, tendons and ligaments more flexible. Some mild weight-bearing activities like walking or climbing stairs may also help slow bone loss from diseases like osteoporosis that weaken bones, making them more likely to break.
Yoga, Pilates and tai chi can all improve balance and muscle strength. Lifting weights or using resistance bands may also be good techniques for you. Be sure to ask your professional care provider before beginning any new program or exercises for strength and balance.
"Fall-proof" your home.
The doctors at Beacon offer the following potential risks – and logical tips for remedying them – hopefully before they truly become a hazard.
Make sure outdoor walkways and steps are well-lit and cleared of leaves, snow and ice.
Secure carpet runners and area rugs by using rubber padding or double-sided tape to prevent slippage.
Make sure wires or cords are placed along walls, instead of mid-room.
Make sure stairway handrails are securely installed.
Use non-slip rubber bath/shower mats.
Consider installing grab bars next to -- and inside -- the tub.
Consider installing grab bars next to the toilet.
Make sure there is a clear path (in the dark) from your bed to the bathroom.
Plug in a rechargeable nightlight.
Keep items you use frequently within reach to avoid needing a stepstool.
Wear shoes that provide good support and have thin, non-slip soles.
"It's always better to avoid a fall, than to need surgery to repair an injury caused by one," said Dr. Johansen. "Taking a few minutes to prepare is simply worth it."
Beacon Orthopaedics treats local patients of all ages for various injuries and ailments – including falls. You can always schedule a diagnostic appointment at any one of the area Beacon locations. If you get injured, you can readily go to one of their Saturday morning injury clinics or urgent care facilities throughout the area.
Go to www.beaconortho.com or call 513-354-3700 to find a nearby Beacon location or to schedule an appointment.