In the unfortunate case of injury, you can trust Beacon Ortho to get your child back on the playing surface.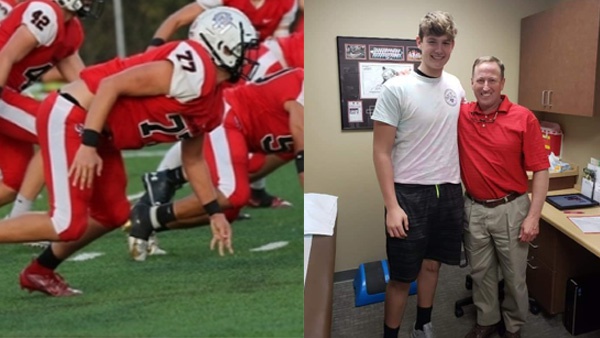 (Undated) - As a boy, Jaden Bode always had knee pain. Doctors told his mother that they were growing pains and (as that name implies) he would grow out of them. So they didn't worry, and he kept playing sports.
Last fall, Jaden, a high school football player, took a helmet to his left knee during a game. The pain was not excruciating, but beyond the pain, he was now also having trouble bending the knee. So he saw his school's athletic trainer every day for a week. When his symptoms didn't improve, the trainer referred him to Beacon Orthopaedics & Sports Medicine. Using arthroscopy, Dr. David Argo at Beacon diagnosed Jaden with Osteochondritis Dissecans, a serious condition in which the bone underneath the cartilage dies due to lack of blood flow getting to the joint. "It was extremely hard watching our normally very active son sidelined by this condition," his mother, Jamie Bode said. But the family was comforted by the fact that Dr. Argo is one of only a few doctors nationwide who has treated this condition. They were in capable and experienced hands.
Mild cases of Osteochondritis Dissecans can be successfully treated with physical therapy and rest. These more conservative options should be explored fully before surgery is discussed. Surgery is only a viable option when the bone has stopped growing or if there is a piece of bone that has broken off. In Jaden's case, Dr. Argo believed that waiting for a donor bone to replace the damaged one was the best course of action.
While donor bones that will fit a 16-year-old, 6'4" football player are rare finds, in December of 2018, Dr. Argo called the Bodes telling them that he had located a donor bone that would work for Jaden. This call brought about another round of emotions ranging from hopeful to terrified. Up until then, the Bodes hadn't realized that waiting for a good match meant another family would lose "their Jaden." It was a heartbreaking realization but made them even more grateful for that person's decision to donate part of their body to help their son.
Although the very detailed surgery went well, the recovery process was lengthy and quite painful at times. He was in excruciating pain for three days. However, by day four he was ready to begin physical therapy and get back on his feet. During a follow-up appointment with Dr. Argo, Jaden and Jamie were able to see pictures of his knee during and after surgery. "That bone fit like a glove in Jaden's knee," said Jamie. "We couldn't be happier (with the results)."
Today, Jaden is playing varsity football -- pain free. And he has been alerted that he is a priority prospect for the 2021 recruiting class at a local university. "Dr. Argo is an inspiration," said Jaden. "He has me thinking of becoming an Orthopedic surgeon."
Seven doctors at Beacon Orthopaedic Medicine (including Dr. Argo) offer non-invasive -- or minimally invasive regenerative medicine options. If you have been injured or are in pain, go to Beacon Orthopaedics & Sports Medicine Lawrenceburg or call 513-354-3700 for an appointment at a convenient location! Discuss your situation with a professional and find the best plan to get you back doing what you love.