Beacon Ortho has identified the most common winter sport-related injuries and how to treat and prevent them.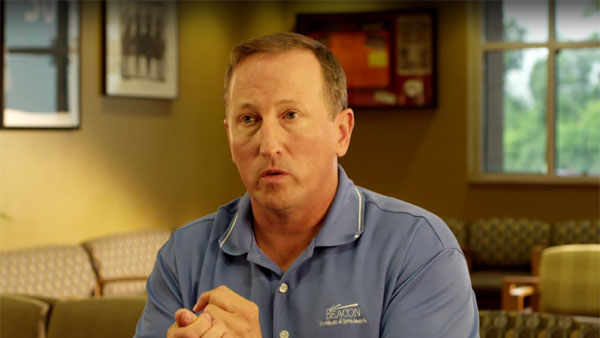 Dr. David Argo. File photo.
As we manage our way through this once-in-a-century pandemic, it's helpful to know that winter can still offer fun outdoor – but socially distanced – activities to help keep you healthy. Those include ice skating, sledding, and cross-country and downhill skiing. These activities invigorate emotional health, improve cardiovascular health and entertain all ages. But, what happens when muscle and joint injuries occur? At the rink or on the slopes, anyone can get hurt in the blink of an eye, and musculoskeletal injuries can be debilitating, even requiring medical intervention. So, what should winter athletes do to protect themselves?
Dr. David Argo from Beacon Orthopaedics & Sports Medicine identifies the most common winter sport-related injuries, how they are treated and offers tips to prevent them:
Torn ACL
The anterior cruciate ligament (ACL) is a major stabilizing ligament in the knee. Therefore, injuring it can cause an unstable knee. ACL reconstruction surgery rebuilds the torn ligament, restoring knee stability. ACL injuries commonly occur during winter sports that involve sudden stops, changes in direction and/or twisting. Downhill skiing is a good example.
During ACL reconstruction surgery, the torn ligament is removed and replaced with a piece of tendon from another part of your knee or from a deceased donor. This surgery is an outpatient procedure that's performed through small incisions around your knee joint. After surgery, the patient may require some physical therapy. This will definitely play a role in his/her own recovery including wearing a brace, icing the knee and using crutches and possibly a continuous passive motion (CPM) machine. The post-operative instructions include specific directions to encourage healing that will optimize knee range of motion, strength and stability.
Torn Meniscus
The meniscus is a C-shaped piece of cartilage. There are two in each knee, one in the inside knee compartment and one in the outside knee compartment. A torn meniscus is one of the most common knee injuries. Actions that forcefully twist or rotate your knee, especially when putting your full weight on it, can tear a meniscus. If you have torn your meniscus, you may experience these signs and symptoms in your knee:
· A popping sensation
· Swelling or stiffness
· Pain, especially when twisting or rotating knee
· Difficulty fully straightening knee
· Experiencing what feels like a block to moving your knee, as if locked in place.
If you can't move your knee in the usual ways after injury, it's important to see a doctor as soon as possible. Conservative treatment — such as rest, ice, medication and possibly an injection – might be enough to relieve the pain and maintain normal knee function. In more severe cases, a torn meniscus requires surgical treatment. Of note, the meniscus can be surgically repaired or trimmed through tiny incisions using an arthroscope. After surgery, the patient is usually in a straight leg brace and using crutches for at least three weeks. Recovery after meniscus repair may take three to six months. Post-operative physical therapy involves strengthening the quadriceps and hamstring muscles.
Winter Injury Prevention
It's impossible to prevent all unforeseen events that often cause musculoskeletal injuries, but these basic tips may offer some protection:
· Eat a nutritious diet with adequate calcium and vitamin D.
· Perform weight-bearing exercise and incorporate resistance training to strengthen muscles and bones.
· Quit smoking if you're a smoker.
· Loosen up tight muscles by stretching 8 to 10 minutes before and after exercise.
· Move regularly throughout the day and stimulate blood flow to extremities.
· Incorporate resistance training to strengthen muscle and connective tissues. "Don't let the frigid weather or fear of injuries keep you from enjoying wintertime sports," Dr. Argo said. "Whether you're hitting the slopes or sledding down a hill with your kids, listen to your body and enjoy the outdoors safely."
If you or someone you love gets injured, appointments are available at Beacon West, Lawrenceburg and Batesville, along with Saturday morning injury clinics and urgent care at Erlanger and Summit Woods.
Go to www.beaconortho.com or call 513-354-3700 for an appointment. All 13 Beacon locations are seeing patients. Striving to ensure patient and staff health, Beacon offers Telehealth Video Visits and when seeing patients in person, they are using all approved safety protocols, including temperature checks, masks, hand sanitizing. Providing a safe environment to diagnose and recommend the next steps for any injury is always the right thing to do.