These young golfers were on 'par' at the EIAC Conference Meet.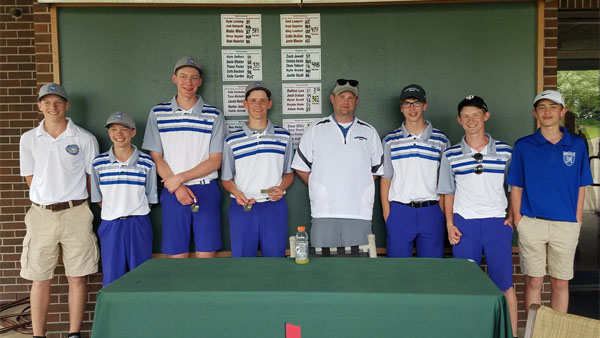 The Batesville Bulldogs are your 2018 EIAC Boys Golf Champions. Photo provided.
(Batesville, Ind.) – The Batesville Bulldogs boys golf team stood above all this spring in the Eastern Indiana Athletic Conference.
The Bulldogs claimed the conference championship by the narrowest of margins, shooting a combined 354 to South Dearborn's 355.
Batesville's Ross Harmeyer and Tristian Lampert earned a place on the all-conference team by finishing second and fourth, respectively.
It was South Dearborn's Drew Miller who was the conference meet medalist. The Knights star shot an 18-hole round of 74. Miller's teammate, Ryan Roark, finished third at the conference meet, earning a place on the all-conference team.
Connersville had the most all-conference selections with four: Dalton Lee, Adam Kelly, Ryan Scott and Jonah Graham.
Other all-conference selections include East Central's Nate Weis and Kyle Leising and Greensburg's Kyle Sellers and Devin Winkler.
Batesville coach Ben Siefert was named the 2018 EIAC Boys Golf Coach of the Year.