Alicia Barnachea is a former intern at Eagle Country 99.3.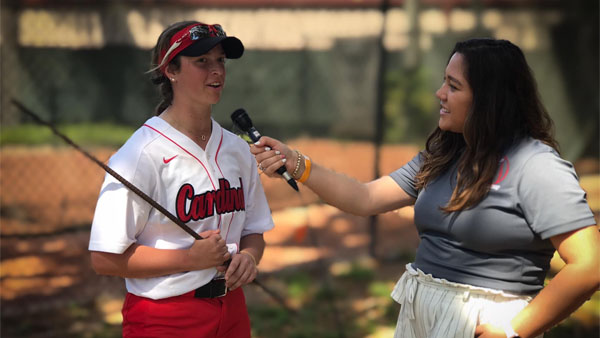 Alicia Barnachea (right) interviews a Ball State softball player. She is working with 13 other Ball State students as part of Ball State Spring Training, an immersive learning course that provides students with real-world, hands-on experience in baseball reporting. This year's group is the fifth incarnation of the program. Photo provided by Ball State University.
(Muncie, Ind.) – A Ball State University senior from Lawrenceburg is soaking up the sun at Major League Baseball spring training.
Alicia Barnachea is among a group of 13 Ball State students taking part in Ball State Spring Training. The immersive learning course provides journalism students with real-world, hands-on experience in baseball reporting.
Barnachea, a former Eagle Country 99.3 intern, will be covering Grapefruit League action this week. The Grapefruit League includes historic franchises such as the New York Yankees, Boston Red Sox and St. Louis Cardinals.
"I'm so excited for this trip because I get to work in a professional atmosphere," Barnachea said. "I get to be on the field with these teams and there's just a thrill in doing that. Being out on the field and reporting is just an amazing feeling. I would not trade it for the world."
Barnachea has been well-involved in school programs during her time at Ball State. She has hosted Cardinal Sports Live, anchored with Waking Up with Cardinal Weather, reported for News Link Indiana sports and photographed for The Ball State Daily News.