The Tigers visit the Knights on senior night in Aurora. Listen to the game on Eagle Country 99.3 Friday night.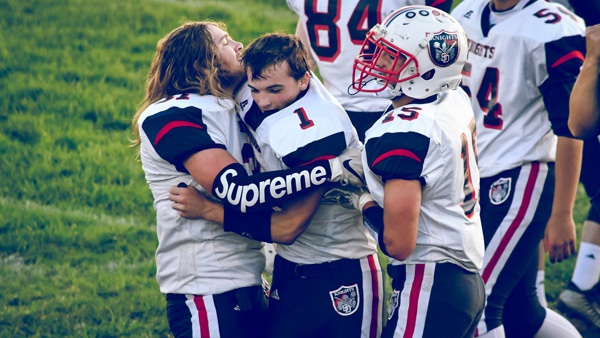 South Dearborn's defense is led by Austin Terrill, Timmy Dick, and Owen Lunsford. Photo by Jenna Hamlett.
(Aurora, Ind.) – In the last three meetings on the gridiron, Lawrenceburg High School's football team has beaten and outscored South Dearborn by a combined score of 180-6.
But that's history. South Dearborn, at 6-2 entering their final game of the regular season, is basking in the present and excited about the future.
The Knights host the 4-4 Tigers on Senior Night in Aurora on what should be a crisp, fall Friday night. You can hear the game live on Eagle Country 99.3 and www.eaglecountryonline.com. Pregame coverage starts at 6:40 p.m., followed by kickoff at 7:00.
Late New York Yankees manager Casey Stengel said to never make predictions, especially about the future. But it's hard not to marvel at the Sagarin prediction of Friday's game. It favors South Dearborn in a 42-7 outcome, which would be a stark turnaround from the 69-0 beatdown dished out by the Tigers just last year in the rivalry game at The Pit.
South Dearborn's 18 seniors want to do something Friday night their class has not ever been able to do in football – beat Lawrenceburg at the varsity level.
"It will be an emotional night, for them, for us, but we have to stay on the course. Business is business," says SD head coach Rand Ballart.
South Dearborn has been led this season on offense by a great QB/receiver duo of Adam Dixon and Ethan Getz. Dixon, perhaps the best passing quarterback in the Eastern Indiana Athletic Conference, has thrown for 1,327 yards and 17 touchdowns with just four interceptions. Getz has caught 25 of those passes for nine scores.
"Adam is throwing the ball pretty well. Ethan is Ethan. He is a playmaker and goes up and gets the football. Pretty much, if it's within his vicinity, he's going to fight and get it," observes Ballart.
But the Knights' bread and butter this season has been their defense.
"Three years ago we put this defense together," says Ballart. "They just know where everybody else is going."
Allowing just 9.8 points per game, the D is paced by middle linebacker Austin Terrill, who has been making a case for EIAC Defensive MVP. The senior has 74 tackles, two sacks, an interception, and has returned two fumbles for touchdowns through eight games. Safety Owen Lunsford has been pretty good, too, with a team-leading 75 tackles and five interceptions.
The Knights have already clinched their first winning season since 2011, when they went 7-3 under former coach Eric Lows.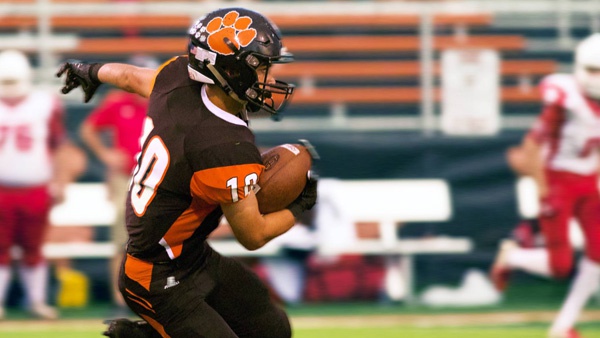 Lawrenceburg tailback Adam Burd. Photo by Jacki Clawson.
Lawrenceburg is on their first winning streak of the season after beating Rushville and Connersville the past couple Friday nights. Ryan Knigga says his young team is growing up.
"We're not going to use our youth as an excuse at this point in the season. Its Game 9. A lot of the kids have been playing for eight straight weeks, going on nine weeks now," Knigga says.
Playing beyond his years is freshman quarterback Garrett Yoon. He has completed 113 passes for 1,730 yards, 13 TDs, and nine picks, in addition to rushing for 449 yards and 8 scores. His favorite target is older brother Gavin Yoon, who has 38 catches for 692 yards and seven touchdowns.
On defense, LHS gives up 24.3 points per game. Sacks are down from 24 last year to just eight this year. Linebacker Marshall Kinnard leads with 59 tackles and a sack. Andrew Rennekamp, Andrew Roth, and Jack Fette have been big contributors as well, each with around 50 tackles.
Both coaches acknowledge the importance of winning the biggest rivalry game on their regular season schedule before the IHSAA Football State Tournament begins next week. Though his team prepares the same as any other week, Knigga says a win in the Battle of Highway 50 simply carries more meaning.
"It's a big deal to us. It's a big deal to our kids. Our kids practice well every week, but I've seen something a little different in their attention to detail this week. Also film study and asking more questions," explains the eighth year LHS head coach.
Knigga says the Tigers will cherish the underdog role on Friday, hoping to build some momentum heading into the postseason.
Listen to our interviews with Lawrenceburg Tigers head football coach Ryan Knigga and South Dearborn Knights head coach Rand Ballart in the audio players below.
Rand Ballart of South Dearborn
Ryan Knigga of Lawrenceburg