Milan has plenty of talent coming back after a (9-3) season a year ago.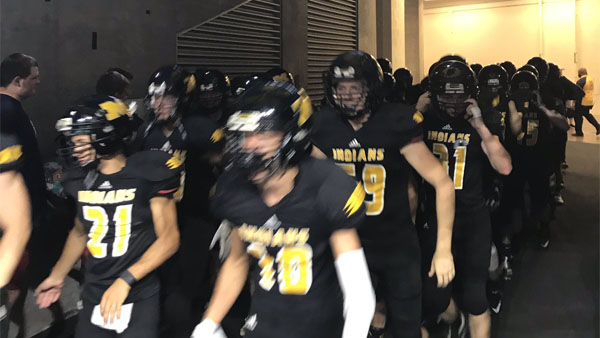 Photo via @MilanIndianFB.
(Milan, Ind.) - Unfinished business. That can be considered the theme of the Milan Indians 2020 season.
Milan went (9-3) last season. Lawrenceburg defeated Milan at Lucas Oil Stadium in Indianapolis and two losses to North Decatur shattered Milan's aspirations to win the Mid-Indiana Football Conference and a sectional championship.
A new season brings a new opportunity for Milan to accomplish those championship goals.
"To lose a heart-breaker by one point was a tough loss to take, however as a coach that's a pretty good point of motivation," said head coach Ryan Langferman. "When you are talking about off-season workouts and preparing for the upcoming season, when you are one point away from a sectional championship, which some would say is the hardest trophy to earn on your way to a state championship. We are able to use that to motivate our kids."
Not only will Milan be a motivated team in 2020, they also return key players on their offense and defense. Offensively, the Indians have the talent to light up the scoreboard.
Including the playoffs, Milan averaged 27.4 points per game in 2019.
Top returning playmakers include Peyton Wert, Peyton Cavins, Carsyn Ascherman, Cole Steele and Adam Norman.
Peyton Wert, who played much of 2019 as a wide receiver, will move to quarterback this season. Wert did take some snaps at QB last season, completing 23-of-43 passes for 415 yards, seven touchdowns and zero interceptions. Wert also scored nine touchdowns as a receiver.
"He's got some experience coming back, a couple games under his belt," said Langferman. "If you follow Milan sports at all, Peyton Wert is a good athlete. We are hoping to highlight his athleticism and get him out in space."
Wert will also have some great options to throw the ball to. Milan returns two of its top receiving threats in seniors Carsyn Ascherman and Adam Norman. The duo combined for 1,061 yards and 18 touchdowns in 2019. Senior Peyton Cavins will move from running back to wide receiver to best utilize his speed and athleticism.
In the backfield, Milan returns senior Cole Steele (515 yards, 6 TDs in 2019) and sophomore Logan Reed (235 yards, TD in 2019).
Steele and Reed should find room to run behind a Milan offensive line that returns seniors Chandler Reatherford and Cody Simms .
"We do have what we feel like are a lot of weapons to get the ball to," said Langferman. "We definitely have pieces to work with. The big question is going to be with how much we missed out on in the offseason when we didn't see our players from March 16 to July 6. How quickly can we make up some of those things we lost out on and get it put together. Hopefully we get that done before the tournament comes around."
HEAR COACH LANGFERMAN'S FULL INTERVIEW WITH DOUBLE T IN THE AUDIO PLAYER BELOW
Defensively, the Indians will have to replace the production of Indiana South All-Star linebacker Dakota Sams and Zac Hauser. Sams had 114 tackles a season ago and Hauser chipped in with 85.
Milan's defense as a whole was solid last season allowing just 12.0 points per game.
Junior Caiden Yorn and sophomore Alec Barker will be tasked with filling the shoes of Sams and Hauser. Yorn and Barker should benefit from playing behind an experienced and gifted defensive line that features All-State tackle Chandler Reatherford, Hunter Merida and Alex Wenger.
Seniors Adam Norman and Cole Steele return at safety and fellow seniors Peyton Wert, Peyton Cavins and Chris Phillips will rotate at corner back. Coach Langferman had the following response as to why his starting QB will also play defense:
"Me being a former quarterback, I was fortunate enough that Coach Brookbank let me play defense. I'm always on the quarterback's side in that situation, saying yeah you can play defense. We are still a small enough school that we need to get our best athletes on the field.
Johnny Volk (CB/WR). Logan Burton (RB/SS), and freshman quarterback Mason Greene are just a few younger players that have caught the eye of their head coach.
Milan will open their schedule with three non-conference games against Rushville, Batesville and Lawrenceburg. Langferman sees playing bigger schools before conference play as beneficial.
"All three of those schools are twice our size in enrollment and its a challenge for us to start," said Langferman. "It's another point of motivation for us throughout the summer to prepare to play three 3A schools. It definitely prepares us for our conference schedule."
Five of their last six games will come against conference opponents this year.
Milan largely rolled through their conference schedule a year ago with the exception of the North Decatur game (21-0 L). This year's game against the Chargers is expected to once again play a pivotal role in who wins the Mid-Indiana Football Conference.
"North Decatur is definitely the one that has been circled," said Langferman. "Steve Stirn is a friend of mine and he's done a tremendous job there at North Decatur and its become a rivalry very quickly again. I think North Decatur and Milan have always had a pretty good rivalry, but a rivalry is only fun to watch when its competitive. He has quickly in the last three or four years made North Decatur competitive and somebody you have to be prepared for."
The Chargers will come calling on Milan on September 18, but the most important game right now is game one at Rushville on August 21.
"We're all excited," said Langferman. "That's something we've preached to our kids, you can't take any day for granted. Every game we get to play is going to be a blessing. We are excited to get things underway."
MILAN INDIANS 2020 SCHEDULE
Friday, August 21 - at Rushville - 7:00 p.m.
Friday, August 28 - vs. Batesville - 7:00 p.m.
Friday, September 4 - at Lawrenceburg - 7:00 p.m.
Friday, September 11 - at South Decatur - 7:00 p.m.
Friday, September 18 - vs. North Decatur - 7:00 p.m. (Eagle Country 99.3 Feature Game)
Friday, September 25 - at Edinburgh - 7:00 p.m.
Friday, October 2 - vs. Oldenburg Academy - 7:00 p.m.
Friday, October 9 - at Providence - 7:00 p.m. (Fan vote week)
Friday, October 16 - vs. Switzerland County - 7:00 p.m.