Listen to Lawrenceburg and Franklin County battle on the gridiron on Eagle Country 99.3 on Friday.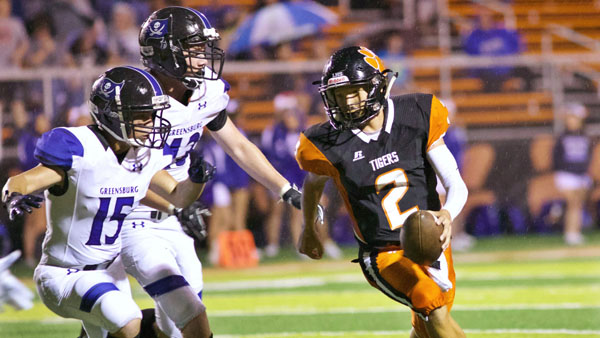 Lawrenceburg High School freshman quarterback Garrett Yoon looks to continue his impressive first varsity season on Friday against the Franklin County Wildcats. Photo courtesy of Jacki Clawson.
(Brookville, Ind.) – Two Eastern Indiana Athletic Conference football rivals will clash in Brookville on Friday night.
The Lawrenceburg High School Tigers will visit the Franklin County Wildcats. Both teams are 1-3 and on two game losing streaks.
The game will air live on Eagle Country 99.3. John Blackwell and Jack Clevenger will have the call starting at 6:40 p.m. Kickoff is at 7:00.
Lawrenceburg's most recent loss came in a heartbreaker at The Pit. Up by two scores against Greensburg in the fourth quarter, the Tigers gave up the lead and lost 34-33. LHS failed to convert a late two-point conversion attempt which would have given them the lead.
"My thought was that we were going to have to go for two anyway at some point to win the game, so why not now?" says LHS head coach Ryan Knigga. "I also talked to the kids about that play being magnified and people talking about that, but there's a bunch of plays in a game and I'm a believer that one play don't make or break a football game."
Knigga has admired the play of his freshman quarterback, Garrett Yoon, in his first four games at the varsity level. Against Greensburg, he threw for 344 yards.
"He has great moxy, carries himself well, is a leader in the huddle," he observed.
Friday's game in Brookville will be the first on a natural grass field for Lawrenceburg this season, says Knigga. He expects the grass to be cut tall.
Franklin County is led by new head coach Wes Gillman, who came over to FCHS last season as an assistant coach. Junior quarterback Brady Bogan has passed for 392 yards and five touchdowns this season, while also running a team-leading 32 times for 149 yards and a score. Bogan's favorite receiving target is Clayton Spurlock, with 17 catches for 199 yards and three TDs in four games.
Listen to Eagle Country 99.3's full interview with LHS coach Ryan Knigga:
Other area games happening Friday, September 14:
Indiana
Batesville at East Central – 7:30 p.m.
Greensburg at South Dearborn – 7:00 p.m.
Rushville at Connersville – 7:00 p.m.
North Decatur at Milan – 7:00 p.m.
Oldenburg Academy at Switzerland County – 7:00 p.m.
Ohio
Harrison at Ross – 7:00 p.m.
Wyoming at Taylor – 7:00 p.m.
Kentucky
Boone County at South Oldham – 7:30 p.m.
Dixie Heights at Conner – 7:00 p.m.
Simon Kenton at Cooper – 7:30 p.m.
Lexington Christian at Walton-Verona – 7:30 p.m.