Lawrenceburg, East Central and South Dearborn were well represented.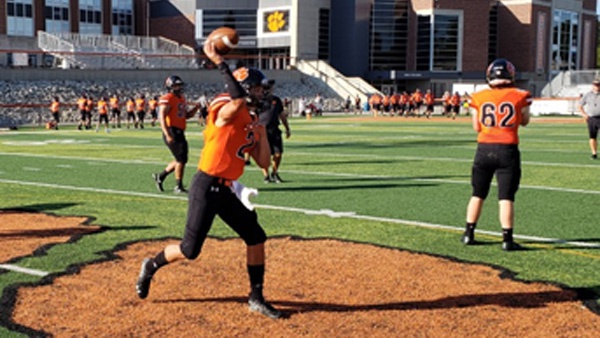 Garrett Yoon is the 2020 EIAC 3A Division Offensive MVP. Photo by Travis Thayer, Eagle Country 99.3.
(Lawrenceburg, Ind.) – The Eastern Indiana Athletic Conference has named its top football players for the 2020 season.
The 2020 Fall Sports All-Conference Teams were announced on Monday.
The Lawrenceburg Tigers, winners of the EIAC 3A Division, placed 15 players on the All-Conference Team, including EIAC Offensive MVP Garrett Yoon and EIAC Defensive MVP Aiden Gilmour.
Yoon put together a fantastic junior campaign, passing for 2,252 yards and 27 touchdowns. He added another 1,083 yards rushing and 14 touchdowns on the ground.
For Gilmour, he made his mark as a lock-down cornerback. He totaled 51 tackles on the season with four interceptions.
Eleven East Central Trojans were named to the EIAC Division 4A All-Conference Team. Left tackle and University of Cincinnati commit Luke Collinsworth is the 4A Offensive MVP, while teammate Kole Veil took home Defensive MVP honors.
South Dearborn had five all-conference selections. They are Hunter Hatfield, Dalton Hatfield, Bryce Valdez, Blake Bartley, and Bailey Whitelock.
The EIAC Coaches of the Year are East Central's Jake Meiners (4A) and Lawrenceburg's Ryan Knigga (Lawrenceburg).
The full 2020 EIAC All-Conference Football Team is listed below.
Division 4A
East Central (3-0) – Luke Collinsworth (Off. MVP), Kole Viel (Def. MVP), Nate Buesing, Tyler Dickerson, Noah Hauser, Austin Cox, Hunter Sohns, Cooper Hoog, Nathan Griffin, Sam Ringer, Sophie Browndyke
Franklin County (1-1) – Adam Kelly, Cameron Smith, Hunter Tschaenn, Bridger Bolos, Kaden Erfman, Robbie Parsons, Sam Westerfeld, Austin Hill, Jacob Schatzle
South Dearborn (1-2) - Hunter Hatfield, Dalton Hatfield, Bryce Valdez, Blake Bartley, Bailey Whitelock
Connersville (0-2) – Evan Shafer
Division 3A
Lawrenceburg (3-0) – Garrett Yoon (Off. MVP), Aiden Gilmour (Def. MVP), Adam Burd, Dayha Patel, Jake Pierce, Brayden York, Dakota Roth, Colton Roth, Ashton Craig, Brayden Watkins, Ethan Parris, Wyatt Hartman, Alex Witte, Jayce Bohan, Luke Pierce
Greensburg (2-1) – Sam West, Robbie Lorenz, Ayden Hammack, Jalen Woods, Luke Scheumann, Ben Bausback, Toby Brogan
Batesville (1-2) – Austin Pohlman, Karson Macke, Colt Swingle, Travis Lecher
Rushville (0-3) – Jake Vance, Eli McGrath