We break down the election results in Dearborn, Franklin, Ohio, Ripley and Switzerland counties.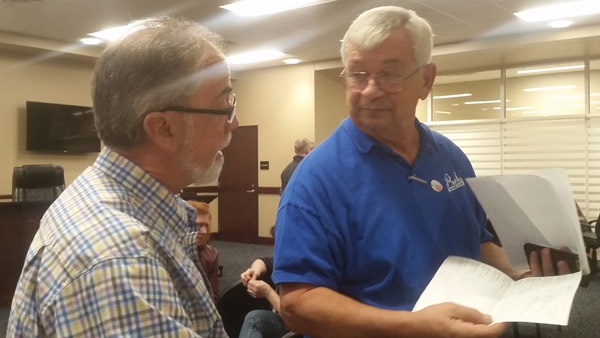 Dearborn County Commissioner-elect Rick Probst (right) reviews election night results with County Councilman Alan Goodman at the Dearborn County Government Center in Lawrenceburg on Tuesday, November 6. Photo by Mike Perleberg, Eagle Country 99.3.
(Lawrenceburg, Ind.) – The river levee around Lawrenceburg must have done its job.
There was no "blue wave" felt as local election results were given at the Dearborn County Government Center on Tuesday night.
Much the same could be said for the entire southeastern Indiana region, as the GOP cruised to victories in every contested race on ballots in Dearborn, Franklin, Ohio, Ripley and Switzerland counties.
Voter turnout in the region was around 47 percent, significantly higher than the last midterm election in 2014. Four years ago, turnout ranged from 47 percent in Ohio County to just 28 percent in Dearborn County.
DEARBORN COUNTY
One of the most-watched races in Dearborn County was that for county commissioner. The executive board of county government will remain in firm Republican control as former county clerk Rick Probst defeated independent candidate Glenn Wright.
"It was an interesting race. I am just happy that it's over," said Probst.
It was a bitter fight. Wright, the county recorder, accused county officials of making the wrong decisions to spend riverboat gaming revenue savings on a jail and courthouse expansion, playing "musical chairs" with county offices, and not doing enough to maintain the county's roads.
In the days leading up to the election, Wright took to Facebook to express frustration that the county commissioner's race was on the back side of the ballot. Most ballots in the county Tuesday had a nearly-even number of races on the front and back of the ballots. The order of races is determined by state law.
In return, the Dearborn County Republican Party took a page out of President Donald Trump's campaign tactic of giving an opponent a derogatory nickname. The party ran advertisements dubbing Wright "Easy Money Glenn" and pointing out that Wright had previously benefited from appointments to county office through the caucus procedure.
Probst is hopeful that county residents will come together under his campaign message to honor the county's heritage and plan for the future.
"I hope that we all got the same agenda to make Dearborn County a better place to live. With the right development residentially, commercially, industrially. We just want to build on what's been done in the past. We want to do it the right way so that 20 or 30 years from now people don't look back and say 'Gee, they should have…' We need to plan and work towards that future," Probst said shortly after learning of his victory.
Probst benefitted as a third of voters in the county cast a straight Republican ballot. Of the 18,393 ballots cast in Dearborn County, 6,160 were straight tickets for the GOP. Over 1,300 were straight Democratic and 53 were straight Libertarian.
Dearborn County Republicans swept the two contested county council races, too. County council president Liz Morris will return to the District 1 seat on council after gaining 80 percent of the vote over Democrat Shelly Snyder. Dillsboro resident and Greendale Police Sgt. Kevin Turner won the District 3 council race with 78 percent of the vote in his favor over Democrat Mel Kremer, Jr.
Joyce Oles was elected Dearborn County Recorder and will succeed Wright in that role in January. She and supporters celebrated at the courthouse as it was announced Oles gained 75 percent of the vote over Democrat Christine Craig.
In the Town of Dillsboro, Republican Tom Wafford defeated Democrat Tina Fortner for town council at-large, 65- to 35-percent.
As far as the non-partisan school board races, Brent Casebolt won a four-way race for South Dearborn School Board At-Large. Incumbent Jeff Lane beat Jeff Cotton in South Dearborn District 1, 56- to 44-percent.
Dawn Disbro Burke won re-election to Sunman-Dearborn School Board District 6, surviving a challenge from Michael Griffin.
There were no contested races for school board with Lawrenceburg Community Schools.
After dead batteries in ballot-scanning machines marred the 2018 May primary election in Dearborn County, the County Clerk of Courts Office worked to ensure a repeat would not happen in November. Clerk of Courts Gayle Pennington said two machines did have to be changed out with backup machines Tuesday.
"Some of the inspectors had a slow start but it wasn't the machine," said Pennington. "Some of our machines were slow due to the diverter working. There were State write-ins so we have to divert ballots to two bins."
The heavier than expected voter turnout did force Dearborn County to fetch an Election Day order of ballots printed to help meet the demand, Pennington said.
FRANKLIN COUNTY
In Franklin County, Chris Huerkamp defeated Democrat candidate Sean Vicente to become the new county prosecutor.
Huerkamp, who is the son-in-law of outgoing prosecutor Mel Wilhelm, gained nearly 80 percent of the vote.
Former Franklin County Commissioner Scott McDonough will be joining county council along with Joe Sizemore and Jeff Koch, as they each won their races handily – 70 percent support or better in each case.
Peter Cates will be the new county sheriff in 2019. He was uncontested in the general election.
Two new faces will be joining Franklin County School Board. Terry Bryan and Sharon Weselowski joined incumbent Beth Foster in winning three at-large spots available on the school board among six candidates in the race. One of those on the outside looking in was incumbent board member Kim Simonson.
OHIO COUNTY
Glen Potts will be the sheriff in Ohio County for four more years. Potts, the Republican, defeated former Lawrenceburg police officer and city councilman Doug Taylor in the sheriff's race, 76- to 24-percent.
Republicans also swept four contested races for spots on Ohio County Council. The winners were Deborah Thomason in District 1, Chris Flood in District 2, Don Grace in District 3, and Marty Dennis in District 4.
County Assessor Ed Hautman, a Republican, defeated Democrat Pamela Brown, 61- to 39-percent. The race for county auditor went to GOP candidate Amy Hamilton Hochstrasser over Deb Cappel, 60- to 40-percent.
RIPLEY COUNTY
Ripley County Republican candidates rode the "red wave" in southeastern Indiana to victory Tuesday.
Mark Horstman got 70 percent support in his victory over Democrat Jay Gayheart in a race for the District 1 County Commissioner. Horstman will replace outgoing commissioner Robert Linville, who did not seek re-election.
The GOP also took two contested county council races in Ripley County. Steven Gloyd was victorious in District 3 with 76 percent of the vote. David Tebbing took District 4 with 72 percent.
In the Town of Osgood Council race, Republican Holley Rose defeated Democrat Norman Kappes, 56-to-44.
The only contested school board race among the county's five school districts was the Batesville Community School Board District 2 showdown between Lawrence Merkel and Tory Flynn. It was perhaps the closest race in the area, with Merkel winning 53- to 47- percent.
SWITZERLAND COUNTY
Switzerland County was probably the most competitive for Democrats in southeastern Indiana, but they still couldn't win a race there.
Sheriff's department chief deputy Brian Morton cruised to victory as the county's sheriff-elect. Morton enjoyed 84 percent support to just 16 percent for Cory Hankins.
Jamie Peters defeated incumbent Democrat Mark Lohide for the District 3 chair on the Board of Commissioners. The vote was 54- to 46-percent.
Three county council seats were contested Tuesday. The winners were "Itsy" Jones in District 1, David Bear in District 2, and Todd Chase in District 4.
Gayle Sullivan was re-elected as the Switzerland County Clerk of Courts, beating Democratic challenger Erin Jackson, 72- to 28-percent. Carolyn Green was elected county auditor to replace the retiring Gayle Rayles next year.
One contested school board race in the county was that for the Jefferson Township board position. Adam Cole bested James Martin, 58- to 42-percent.