The McLaughlin Activity Center opened on October 24.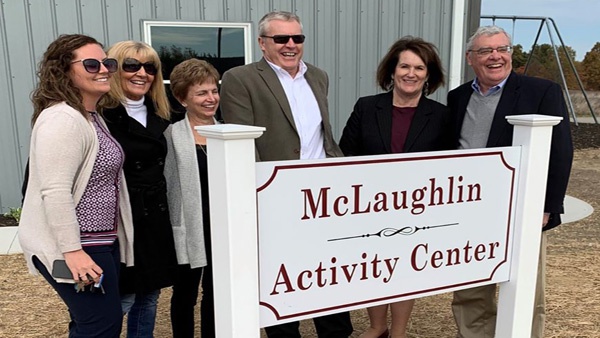 Photo by: YES Home.
(Manchester, Ind.) - The Youth Encouragement Services (YES) Home has opened a new addition to their facility.
The McLaughlin Activity Center (MAC) had it's grand opening on October 24.
Amy Phillips tells Eagle Country 99.3 that this center will be a wonderful and healthy 'escape' for the kids.
"We have not had a place for the kids to play and exercise when the weather is bad—which is about half the year. This will give our youth and their families a wonderful place to engage with each other and discover new interests and hobbies. Youth will also be able to develop a wellness lifestyle. Exercising and burning off energy as well as yoga and crafts will give our youth ways to express themselves in healthy ways," Phillips says.
This center was named after a founding member and 1980 president of the YES Home, Betty McLaughlin.
Betty, or better known as 'Grandma Mac' was well known for her passion for the well being of children.
"Grandma Mac would love this not because of the name but because it's for the kids and she loved kids."
Through the Dearborn Community Foundation City of Lawrenceburg Community Grant Program and donations raised through fundraisers, this dream was able to become a reality.
"We cannot thank our community enough for everyone who donated, supported or attend our golf outing, and even shared the Yes Home story. Our goal is to continue to support youth and their families as they work to repair relationships and become integrated into our community," added Phillips.
The YES Home would like to remind the community that they will be accepting Christmas donations and the next golf outing will be June 8, 2020.
You can go to the YES Home website for more information or to make a donation.
RELATED STORIES:
DCF: Lawrenceburg Grant Program Awarded $1.4M To Local Non-Profits