Lawrenceburg Community School Corporation and St. Lawrence School students are heading back to class Wednesday.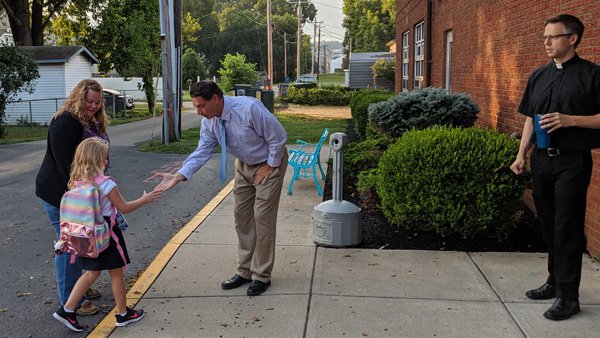 St. Lawrence Catholic School's new principal, Rob Detzel, and Fr. Ben Syberg welcome a student to the first day of classes Wednesday. Photo by Mike Perleberg, Eagle Country 99.3.
(Lawrenceburg, Ind.) - Summer vacation is officially over for some local students as of Wednesday, July 31.
Lawrenceburg Community Schools and Saint Lawrence Catholic School are welcoming students back for the first day of class of the 2019-2020 school year.
LCSC Superintendent Karl Galey says motorists in Lawrenceburg are asked to be mindful of school buses back on the road this morning and afternoon.
Buses are rolling for Lawrenceburg Community School Corporation today. #LawrenceburgLegacy pic.twitter.com/pNN4OrMFca

— Karl Galey (@galeykarl) July 31, 2019
Students at St. Lawrence School are being greeted by a new principal this year. Mr. Rob Detzel comes to St. Lawrence by way of St. Cecilia School in northern Kentucky.
The schools in Lawrenceburg return at least a week ahead of most other area schools this year. The trade-off is that Lawrenceburg students will receive a two-week fall break September 30 through October 11.
Dates of the first student days for other area school corporations for the 2019-2020 school year:
Batesville Community Schools - August 7
Boone County Schools - August 14
Erlanger-Elsmere Independent Schools - August 14
Franklin County Community Schools - August 7
Jac-Cen-Del Community Schools - August 5
Milan Community Schools - August 8
Rising Sun-Ohio County Schools - August 2
South Dearborn Community Schools - August 7
South Ripley Community Schools - August 7
Southwest Local School District - August 20
Sunman-Dearborn Community Schools - August 7
Switzerland County Schools - August 7
Three Rivers Local School District - August 13
Walton-Verona Independent Schools - August 8