Plans are for the chopper to be displayed in the upcoming Farmers Fair parade.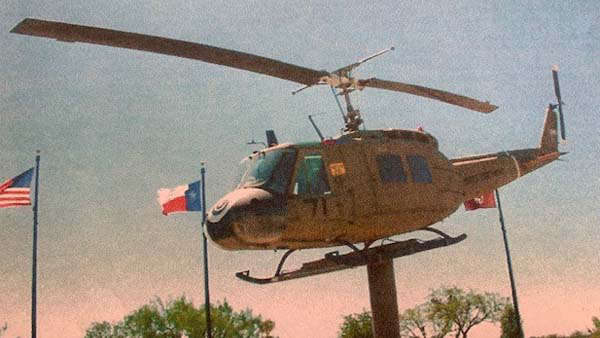 This is what the display at Lesko Park will look like. Photo provided.
(Aurora, Ind.) – Local Vietnam Veterans have been trying to bring a Huey Helicopter to Aurora for nearly three years.
The Southeastern Indiana Vietnam Veterans of America, Lary D. Fogle Chapter 71 announced Thursday that they have acquired a Huey Helicopter to put on display at Lesko Park, along the Ohio River in Aurora.
The chopper is currently stored at the National Guard Armory in Shelbyville. Nick Ullrich and PG Gentrup have been working with Colonel Matthew Handy, the commander of the facility, to fill out the proper paperwork and connect with the proper authorities to gain possession of the Huey.
"The Huey was the workhorse for the Vietnam Veterans and a veteran can still hear the sound of "thump, thump, thump" in the distance and know it's a Huey coming. This memorial will serve to honor, not only the Vietnam Vets, but all veterans who have served," said PG Gentrup.
The chopper will be transferred from Shelbyville to the Round Barn at Lischkge Motors on U.S. 50 in Dillsboro on Friday, August 27.
Present plans are to have the helicopter painted at Lischkge Motors and then displayed in the Farmers Fair parade on October 2. The chopper will then be placed on a base and pedestal at Lesko Park as part of a small memorial park with flag poles, engraved bricks, and monument.
A ribbon cutting is expected to take place prior to Veterans Day. A dedication ceremony is planned around Memorial Day 2022, once the park area is completed.
"It has taken some time and effort by many people but now we will have a place where people can come to and reflect on their military service. Southeastern Indiana is known for its patriotism and support for our troops and veterans," said Gentrup. "The Vietnam Veterans want to thank all those involved in this process and for your continued support of all the activities we are involved in. God Bless all of you and the USA."
RELATED STORIES