Watch the family's Thanksgiving Day reunion here.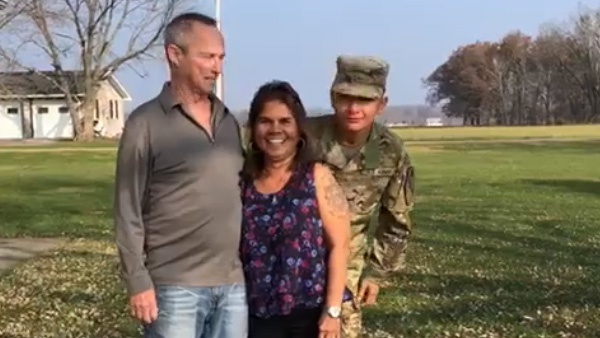 Michelle Davidson filmed this video of her mother, father, and nephew being reunited in Dillsboro on Thanksgiving Day. Photo provided.
(Dillsboro, Ind.) – A surprise Thanksgiving Day reunion between a soldier and his grandmother is a real tear-jerker.
The video shows LeVan Davidson and her husband, Steve, posing for a photograph in front of their home in Dillsboro. As they pose, Nate Jacobs dressed in his military fatigues sneaks from around the house, comes up from behind, and lays a peck on her cheek
"He always kisses me. When he kissed me I turned around and looked up at him. I hadn't seen him in forever," says LeVan.
Nate, a 2018 Lawrenceburg High School graduate, had been training at Fort Benning in Georgia since June. The Army private returned to southeastern Indiana for a four-day Thanksgiving leave, but his grandma didn't know that until the surprise.
Nate's aunt, Michelle Davidson, helped to plan the surprise. She captured the joyful moment on camera. Watch in the player below.