A Hebron teen was killed in the Monday morning crash caused by a driver who was allegedly intoxicated.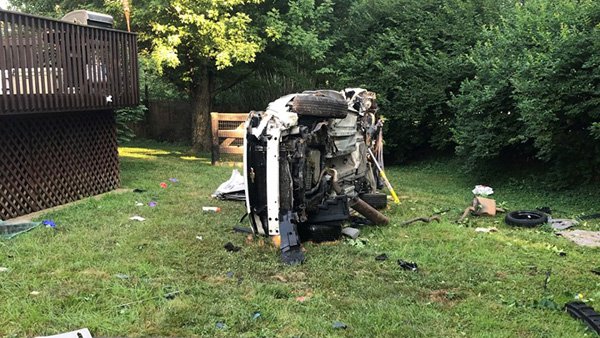 The wrecked vehicle in the backyard of a home on Bluestem Drive Monday, July 8. Photo by Boone County Sheriff's Office.
(Burlington, Ky.) - The victims of an intoxicated driving crash in Burlington have been identified by the Boone County Sheriff's Office.
A Hebron man is behind bars, accused of causing the deadly crash. Deputies say Anthony Yeager, 22, was driving drunk early Monday morning when he crashed his Chevrolet Malibu off of Camp Ernst Road and into a backyard of a home on Bluestem Drive.
Killed in the wreck was 19-year-old passenger Lamail Borders, of Hebron. Police had delayed releasing his name until next of kin were notified.
Two 15-year-old boys, both from Hebron, were injured. One remains at Cincinnati Children's Hospital being treated for serious internal injuries while the other has been released, according to the sheriff's office.
Please keep our CHS families in your thoughts and prayers! https://t.co/TKanjSQPzC

— Conner High School (@ConnerHigh) July 9, 2019
Yeager remains in the Boone County Jail on charges of OVI, Manslaughter, Assault, Possession of Paraphernalia, Criminal Mischief, and Operating on a Suspended or Revoked License.
RELATED STORIES: