Can you help police identify these two men?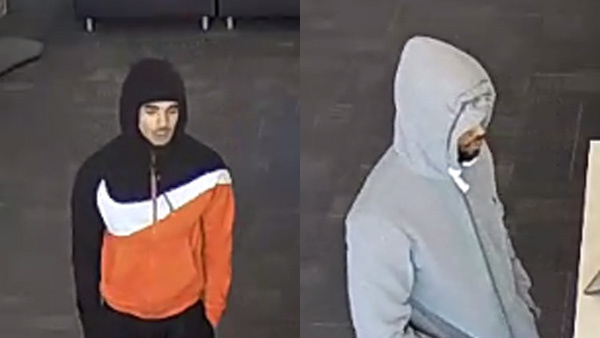 Photos courtesy the Boone County Sheriff's Office.
(Hebron, Ky.) – The Boone County Sheriff's Office is seeking the public's assistance in identifying two robbery suspects.
Sheriff's deputies responded to the AT&T Store on North Bend Road around 12:56 p.m. Friday for a robbery in progress.
According to a news release, two black males entered the store and made their way to the iPhone display. A short time later, both males began to cut cable cords that attach phones to the display.
A store employee approached the suspects and was allegedly threatened by one of the suspects. Deputies say no weapons were involved and no injuries were reported.
The suspects fled the store on foot.
Anyone with information about the robbery or the suspects is asked to submit a crime tip to crime@boonecountyky.org.
Information may also be submitted by calling the Boone County Sheriff's Office at 859-334-2175 or Crime Stoppers at 513-352-3040.