The students at St. Nicholas School in Sunman are doing some important work this Lenten season.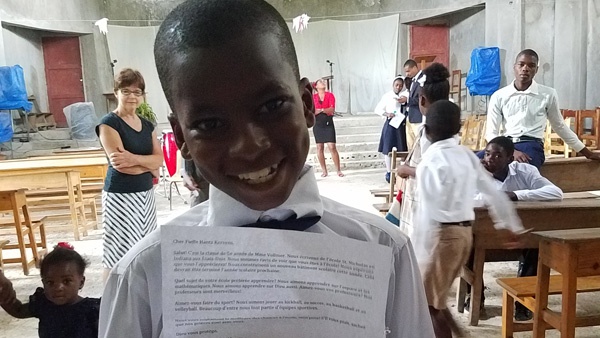 A Haitian student with a letter from St. Nicholas School students. Photo provided.
(Sunman, Ind.) - St. Nicholas School students have an opportunity to be an example of "cheerful givers" as they visibly demonstrate almsgiving this Lenten Season.
For a second year, they are donating and collecting money for their "Haiti Sponsor Bowls" to sponsor Haitian school children.
If enough money is attained through the bowls by Easter, tuition/books and school meals will be provided for nine Haitian children, one child per St. Nicholas School grade. An individual picture of each child will then be displayed, one for each classroom, as they are prayed for and letters are written to them.
This Haitian student was so delighted to receive a letter from the St. Nicholas School fifth grade class last summer.