The public is welcome to take self-guided tours of the new facility on Sunday, August 4.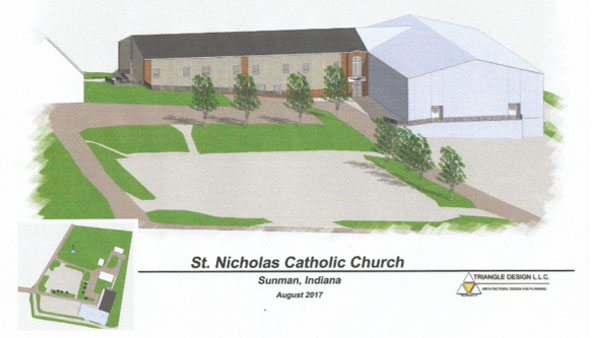 The Education Center is seen on the left side of the rendering. The Fellowship Center is the white building on the right side. Photo by St. Nicholas Catholic Church.
(Sunman, Ind.) – More than a year after groundbreaking, St. Nicholas Education Center is ready to open its doors.
Known as Phase I of the Heritage Project, the education center started going up last April. The Heritage Project also includes the building of a new Fellowship Center complete with a gym and cafeteria.
The education center will feature nine new classrooms, a combination library/music room and a combination STEM lab/art room. Other features include improved accessibility and ADA compliant restrooms and new heating and cooling systems.
The new space replaces the 138-year-old St. Nicholas School that was demolished this past May.
St. Nicholas Parish will celebrate the opening of its new education center with a ribbon cutting ceremony and blessing on Sunday, August 4.
The ceremony will be held at approximately 11:30 a.m., following Holy Mass. Lunch and self-guided tours will follow. All are invited to attend.
For those unable to attend, the ceremony will be live-streamed on the St. Nicholas website.
Additionally, fundraising continues for Phase II of the Heritage Project. To donate, visit www.stnicholas-sunman.org.
RELATED STORIES:
St. Nicholas Community Bids Bittersweet Farewell
At St. Nicholas School, Construction A Welcome Distraction