Doug Taylor was a Lawrenceburg Common Council member and police officer who sued the city in federal court after he was fired in 2013.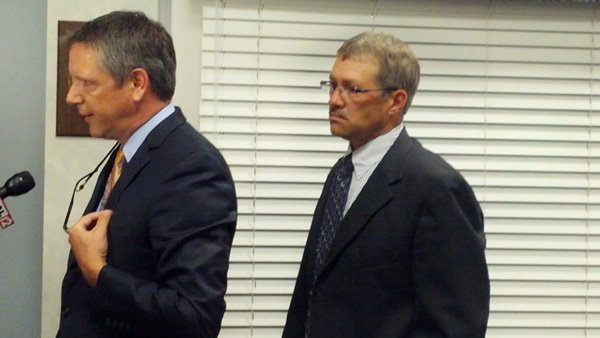 Former Lawrenceburg Common Council member and police officer Doug Taylor (right) and attorney Richard A. Butler at a Lawrenceburg Board of Works termination hearing in 2013. File photo.
(Lawrenceburg, Ind.) - After years of litigation, a former Lawrenceburg Common Council member and city policeman's whistleblower lawsuit may have reached its final conclusion.
Doug Taylor filed a federal lawsuit against the City of Lawrenceburg in U.S. District Court for Southern Indiana in 2014 alleging his First Amendment rights to free speech were violated and the Lawrenceburg Board of Works 3-2 vote to fire him was not sufficient. When he lost there in 2017, he appealed to the Seventh Circuit U.S. Court of Appeals.
Last November, the appellate court upheld the lower court ruling. Taylor and his attorney then asked for a rehearing on the appeal, but the district court voted to deny a rehearing on December 13.
Lawrenceburg city attorney Del Weldon said the city is happy that the case appears to finally be over.
"It is clear that the City properly terminated Mr. Taylor and acted fairly when doing so. It is unfortunate that this had to be litigated for so long, but we are pleased with the final outcome," Weldon said Thursday.
Taylor – a candidate for sheriff in Ohio County last year – or his attorney, Richard A. Butler, have not responded to requests sent Wednesday inviting them to comment on the Seventh Circuit U.S. Court of Appeals decision.
Taylor was criminally charged with felony Ghost Employment and Official Misconduct for appearing at a 2011 Lawrenceburg city council campaign town hall event while on duty and in his police uniform. As part of a deferred prosecution agreement with Dearborn County prosecutors, he was forced to resign from the city council position he won election to.
The day after the deferred prosecution agreement was signed in 2013, the former councilman distributed a rambling, 11-page letter accusing then-mayor Dennis Carr and others in his administration of corruption and criminal activity. Carr or others in the administration named in Taylor's letter vehemently denied any of the accusations and never faced criminal charges.
Months later, Taylor was fired from the Lawrenceburg Police Department after 22 years with the department.
The county prosecutor at the time, Aaron Negangard, told the Lawrenceburg Board of Works during a termination hearing that his office would no longer accept charges from Taylor, a move which renders almost any law enforcement officer ineffective. Negangard said Taylor had admitted to "crimes of dishonesty."
Taylor's appeal challenged the validity of the BOW's 2013 vote to fire him. The Seventh Circuit judges agreed that issue should have been appealed in Dearborn County court, but Taylor had relinquished that opportunity when he withdrew the issue from county court and filed a federal case.
The appellate court was also asked to determine whether Taylor had a fair opportunity to argue his case for remaining employed before the Lawrenceburg BOW.
"Moreover, as to Taylor's clashes with Mayor Carr, the Board also rejected his argument that the Board members were improperly biased or prejudiced against him," Judge John Z. Lee wrote in the opinion. "Taylor therefore had the opportunity to litigate before the Board the same material issues underlying his claims in this case… We are convinced that Taylor had a full and fair opportunity to be heard on these issues."
Taylor had also sought to revive a defamation claim, but the Seventh Circuit again found that Taylor failed to appeal the BOW's determination in county court, binding him to the board's findings.
"In any event, it is difficult to see how the Board's findings regarding the testimony by the state prosecutor that he would not rely on Taylor in the future could possibly constitute defamation," Lee concluded.
Any further appeal in federal court would have to be made to the U.S. Supreme Court. As of February 14, no such filing indicating an appeal could be located.
RELATED STORIES:
Federal Judge's Ruling Clears Lawrenceburg Officials In Firing Of Former Officer, Councilman
Accusations Fly At Officer's Termination Hearing
Prosecutor Won't Pursue "Vindictive" Allegations
L'burg Councilman Accuses City Of Wrongdoing
L'burg Councilman Taylor Resigns