Good luck to the entire SDHS BPA team!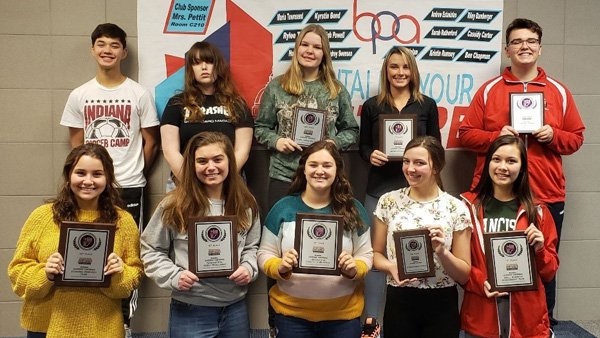 (Shown left to right, top row: Andrew Estanislao, Kristin Rumsey, Rileigh Powell, Kyrstin Bond, & Ben Chapman. Bottom row: Riley Bamberger, Cassidy Carter, Haley Rudisell, Rylee Thies & Maria Townsend)
(Aurora, Ind.) - South Dearborn High School's Business Professionals of America (BPA) students have many reasons to celebrate.
Along with the whole team moving forward to the Business Professionals of America State Leadership Conference (SLC), a BPA member will be kicking off the 2020 SLC by singing the National Anthem.
Cassidy Carter entered in the first annual 2020 Indiana BPA National Anthem Contest by submitting an acapella rendition to be considered on December 19. On Wednesday, January 15, Carter received the great news that she had won the contest.
Not only will Carter be singing the National Anthem, but she will also be competing with her teammates throughout the three-day conference.
Three teams as well as all 10 individuals involved in the BPA have qualified to move forward to compete at the Business Professionals of America SLC in Indianapolis on Sunday, March 8 through Tuesday, March 10.
To qualify for this contest, all individuals and teams had to compete at the Regional Leadership Conference at the Ivy Tech Community College in Madison on Saturday, December 7.
Individual winners include:
Kyrstin Bond - 1st place in Application Interview
Cassidy Carter - 1st place in Fundamental Word Processing
Ben Chapman - 1st place in Business Law and 3rd place in Banking and Finance
Haley Rudisell - 1st place in Fundamental Desktop Publishing
Riley Bamberger - 2nd place in Prepared Speech
Rylee Thies - 2nd place in Extemporaneous Speech
Team winners include:
Economic Research Team: 1st place
Global Marketing Team: 2nd place
Small Business Management Team: 2nd place
Good luck to all teams and individual competing at the conference in March.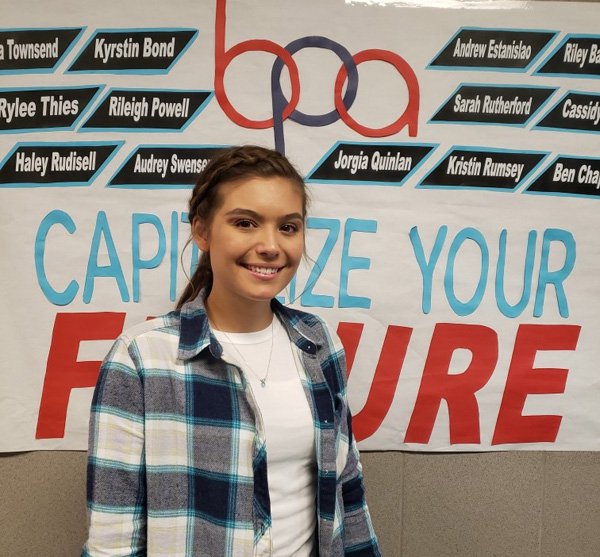 (Cassidy Carter, 2020 Senior South Dearborn High School)