The Sunman-Dearborn School Board heard the proposal at their May meeting.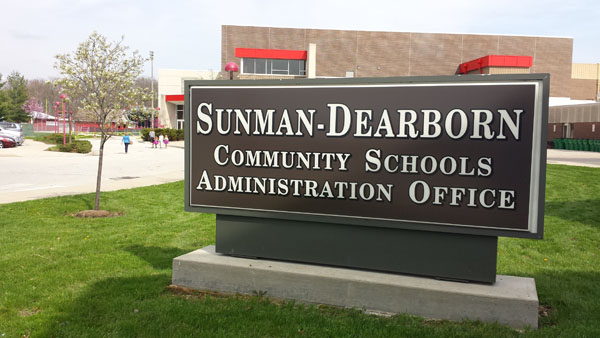 (St. Leon, Ind.) - The Sunman-Dearborn Community School Corporation's agriculture program could be in for a big expansion.
Teachers Roy Johnson and McCord Snider, along with alumni association member Brad Dawson, gave a presentation at the May 12 Sunman-Dearborn Community School Board meeting, proposing expansion to the school corporation's agriculture program.
Dawson proposed the creation of the Sunman-Dearborn Community Schools Agriculture Education Center. The proposed 70,000-square-foot facility would be built on 23.48 acres at the old North Dearborn Elementary School location - bringing agriculture, science, horticulture, and natural resources together in one learning environment.
Currently, East Central High School features two ag classroom and lab spaces, a large ag mechanics shop, second story greenhouse and workroom, and multiple outdoor garden areas. However, the high school lacks animal science space.
At East Central Middle School, there is one classroom and lab space, agriscience shop tied into the main classroom, and outdoor garden space.
Johnson mentioned that the facilities are excellent, but there is a need for expansion as the program continues to grow.
The proposed ag education center would feature classrooms, meeting and conference spaces, commercial kitchen, ADA compliant restrooms, and vocational instruction area. Plans also include leased educational spaces to colleges such as Ivy Tech and Vincennes, and leased office space to help pay for the facility.
Dawson said the leased space would allow all county agriculture and natural resource entities to be under one roof, create student intern possibilities, and provide additional higher education opportunities.
The Sunman-Dearborn Community Schools Agriculture Education Center is estimated to cost around $15 million to build.
Dawson added that there is great possibilities for county, state and/or federal funding, grants, and private donations.
In terms of staffing, Dawson said the corporation would likely need to hire one more ag educator and possibly a facility manager that has teaching capabilities. Volunteers would also likely be crucial to managing the building, along with custodial workers.
Other logistics such as how students would get to and from the facility have yet to be ironed out, as the school corporation is first gauging buy-in from the community.
Ag teachers Roy Johnson and McCord Snider explained the need for expansion has the agriculture program continues to grow. According to Snider, roughly 300 junior high students were turned away from ag classes this year due to the lack of classroom space and teachers. Because of that, some students don't have the opportunity to join FFA due to the national rule that students have to be enrolled in ag classes to join the group.
Overall, the SDCS Agriculture Department has a 3-year Vision:
Offer more Animal Science opportunities for students on both ECHS and ECMS campuses.
Provide an increased stepping stone for ECMS students to get interested in agriculture and sciences and FFA.
Provide more ECHS students ample opportunities to become successful within the field of agriculture post graduation.
Even if the agriculture education center doesn't come to fruition, the East Central Middle School Ag Room is scheduled to be renovated during the summer of 2023. Snider outlined three potential options for the space at the middle school:
Small Animal Lab with students
Aquaponics Lab with students
ECMS Life Science Lab with no students (students taught at HS)