Community Blessing Boxes Facebook group is continuing to take donations.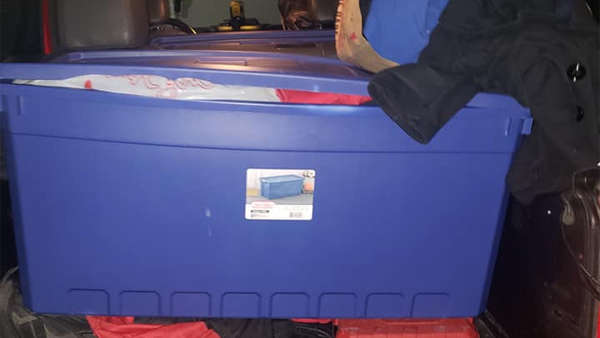 Several totes were filled with winter items at the Lawrenceburg/South Dearborn football game on Friday. Photo via Community Blessing Boxes.
(Lawrenceburg, Ind.) – The Lawrenceburg and South Dearborn communities came together to benefit the less fortunate this past Friday.
The Community Blessing Boxes Facebook group hosted a Blanket/Winter Clothing Donation Drive at Lawrenceburg High School during the Tigers' varsity football game against South Dearborn.
Over 200 items were donated to the cause.
Donation Drive Results are as follows:
South Dearborn fans donated 125 items and $122
Lawrenceburg fans donated 90 items and $20
"We are absolutely overwhelmed and excited," said donation drive organizer Brenda Selmeyer. "We got so many practical items and our homeless are just going to reap the benefits. Thank you to everybody who brought in donations. Its definitely a great start to the winter."
For those who would like to donate to the cause, visit Community Blessing Boxes on Facebook and send a message and one of the 1,300 volunteers will come and pick up your items and get the items distributed.