Potholes are getting filled, but traffic is getting backed up.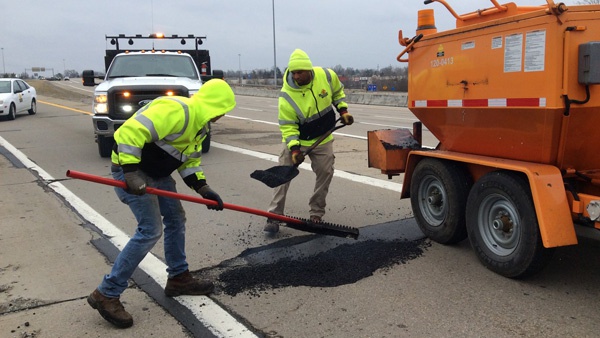 Kentucky Transportation Cabinet photo.
(Erlanger, Ky.) – Rolling road blocks will return to highways in northern Kentucky on Tuesday, February 19.
Kentucky Transportation Cabinet crews were filling potholes on Interstate 275 between Turkeyfoot Road and Mineola Pike. The crews utilized a rolling road block in order to allow workers to fill the potholes safely.
More pothole filling operations on I-275 Eastbound will start around 9:00 a.m. Tuesday.
Motorists on I-275 should expect long delays during the work.
Hey I-275 Eastbound - Heads Up! The Pothole Patrol will be working from Mineola Pike (Exit 2) to Turkeyfoot Rd (Exit 82) starting approx. 9 a.m. Rolling roadblocks will be used. Motorists should expect delays! - take another way. @KYTCGoKY @700wlw @WLWT @WCPO @Local12 @FOX19 pic.twitter.com/dpJCD6q12c

— KYTC District 6 (@KYTCDistrict6) February 19, 2019