The fire started early Thursday morning.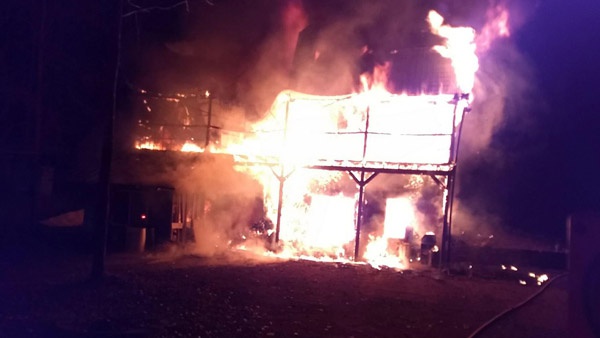 Photo provided by Mike Hill, Dillsboro Fire Department.
(Dillsboro, Ind.) – A home was destroyed by an early morning fire in Dillsboro.
The Dillsboro Fire Department received the call at 3:48 a.m. for a burning home on the 10300 block of Elder Lane. When firefighters arrived, they found the home was fully engulfed.
Firefighters began defensive operations to put out the fire, said Kevin Turner with Dillsboro Fire Department. They received backup from fire departments from Aurora, Friendship, Milan, and Versailles.
The residents were home at the time the fire was discovered. They were able to exit the home unharmed, said Turner.
The home is a complete loss. Damage is estimated at around $140,000.
A cause remains under investigation, but it is not believed to be suspicious, Turner said.