Team Rubicon is working with the DOD to collect and distribute items of need to Afghan evacuees.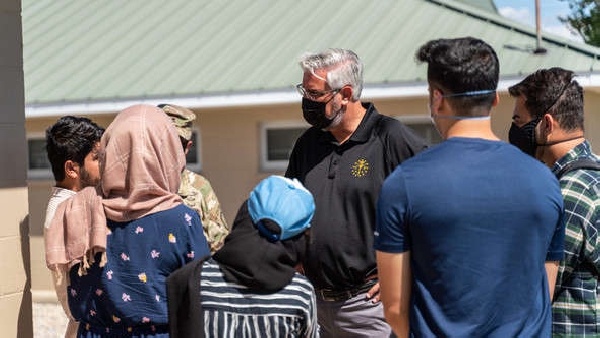 Governor Eric Holcomb visits with an Afghan family at Camp Atterbury. Photo provided.
(Camp Atterbury, Ind.) - Resettlement efforts are continuing at Camp Atterbury.
The camp, located about 40 miles south of Indianapolis, is one of eight sites across the country that has temporarily taken in Afghan evacuees.
Approximately 65,000 Afghans were evacuated from their homeland following the Taliban takeover of Afghanistan. Camp Atterbury is capable of hosting around 2,500 evacuees as part of Operation Allies Welcome.
Team Rubicon is working in coordination with the Department of Defense and other organizations to meet the humanitarian needs of Afghan families temporarily relocated to Indiana.
HEAR DOUBLE T'S INTERVIEW WITH CHRIS BOWLING IN THE AUDIO PLAYER BELOW
Part of their duties is supporting the management of donated goods, setting up the logistics of each donation point for collections and distribution to Camp Atterbury and seven other bases across the country.
If you are interested in supporting the Afghan families, an Amazon Wishlist has been tailored to the specific needs of each base.
The Camp Atterbury Afghan Resettlement Needs include:
Fall clothing (men, women, children)
Child specific items
Food and water
Hygiene products
A full list of items can be found at Team-Rubicons-Afghan-Resettlement-Support-and-Needs.pdf.
For more information, visit Team Rubicon | Afghan Resettlement (teamrubiconusa.org).
RELATED STORIES
Gov. Holcomb Visits Afghan Evacuees At Camp Atterbury
Afghan Evacuees Arrive In Indiana, Head To Camp Atterbury
Indiana's Camp Atterbury To Temporarily House Afghan Evacuees