TC's Side Street Tavern was the scene of a police search in March 2018.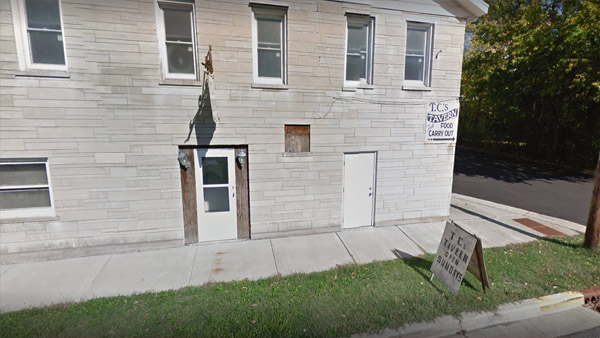 Google Street View image.
(Dillsboro, Ind.) - When TC's Side Street Tavern was raided in March, it had locals speculating about what authorities may have found there.
The investigation continued even though the bar's owner and sole proprietor, Thomas W. Ward, died just days after the search of his business.
Newly filed court documents have enlightened the public on what was going on at the small town watering hole that drew interest from the Dearborn County Special Crimes Uni, Indiana Excise Police, and the Indiana Department of Revenue. Two women are facing charges for allegedly helping a bar owner skirt paying tens of thousands of dollars in sales taxes.
According to a probable cause affidavit, Rita Schnebelt, of Dillsboro, was the bar keeper at TC's Side Street Tavern for over a decade. Andrea Ward, of Morton, Illinois, was the bar's bookkeeper.
Detectives had been in the bar and observed the cash register being left open as drinks were sold. They knew that not ringing up sales is a common way for restaurants to avoid paying state and federal taxes.
Inspecting bank records and tax documents, the investigators realized that the income being reported on tax forms filed by Thomas Ward was 25 to 43 percent less than deposits being made into the business' bank account.
The Indiana Department of Revenue's analysis of the business' books determined unreported sales of more than $511,000 between 2013 and 2017. The Wards and Schnebelt schemed to avoid paying nearly $36,000 in state sales taxes on those sales.
Schnebelt and Andrea Ward were charged September 14 with Conspiracy to Commit Corrupt Business Influence (level 5 felony), Conspiracy to Commit Theft (level 6 felony), and Conspiracy to Commit Money Laundering (level 6 felony).
Ward's attorney filed September 17 a motion to recall her arrest warrant or set a warrant surrender and bond review. Attorney Jeff Cardella, of Indianapolis, argued that the probable cause affidavit failed to state any actions taken by Ward that would constitute a crime. Any criminal activity that may have occurred happened prior to her becoming involved in the business.
The next day, Dearborn County Circuit Court Judge James D. Humphrey issued an order denying Ward's request.
Schnebelt, 75, pleaded not guilty during her initial appearance in court on September 18. She is out of jail after posting a bond of $20,000 surety and $1,000 cash.
TC's Side Street Tavern has been closed since around the time of the March raid.
RELATED STORIES: