A proposal has been submitted to the City of Aurora to construct a boat ramp, kayak rental area, and RV park.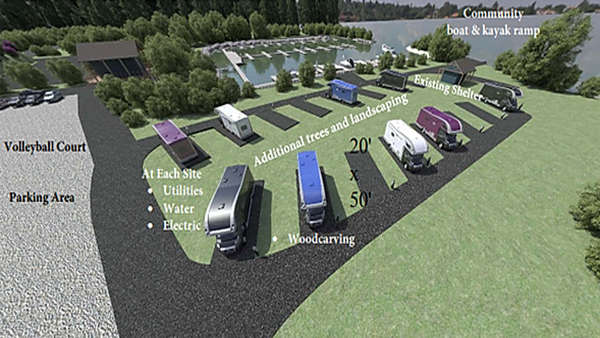 Rendering for proposed changes at Waterways Park. Photo via www.auroraparksandrec.org.
(Aurora, Ind.) – Some exciting changes could soon be made at Waterways Park in Aurora.
Proposed changes to the park on Moore Street have been submitted to the City of Aurora.
The proposal includes a two-lane boat ramp to Hogan Creek, kayak rental storage rack, and RV park with approximately 16 camping spots.
Each site would include utilities, water, and electric.
The additions would further the makeover that has already began at Waterways Park. Last year, work was done to the bathhouse, restroom, office, and docks.
Under the proposal, separate men's and women's bathrooms would be built for community use, in addition to new light poles and security cameras for the boat ramp and camping areas.
A community parking lot, volleyball court, dog park, additional trees and landscaping have also been proposed.
According to Aurora Parks and Rec, the City is considering entering into a long term lease with the owners of Waterways Marina, but the property of Waterways Park would remain being owned by the City of Aurora.
For more information, click here.