Three information sessions will be held in Batesville, Versailles, and Lawrenceburg in July and August.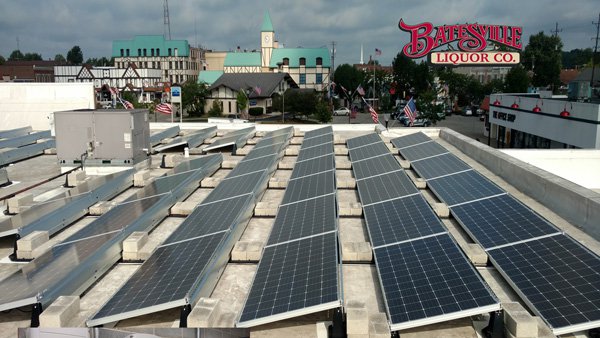 Batesville Liquor Company's owner utilized the Solarize Indiana program to install solar panels atop the store. Photo provided.
(Batesville, Ind.) – You can learn about the benefits of using solar energy at your home or business at three upcoming meetings.
Solarize Indiana is a statewide solar energy program coordinating a buying arrangement that puts going solar within reach for almost every property owner.
A southeast team of Solarize Indiana has been holding information session and solar-powered home tours in the Batesville and Oldenburg areas since last August. Sister Claire Whalen, an Oldenburg resident involved with the organization, says the events made it possible for 13 homeowners and two businesses to install solar panels last fall.
"They are hoping to attract many more folks to think about investing in sun-power rather than fossil fuels for many reasons including one excellent way to decrease their carbon footprints and also lower their electric bills," says Whalen.
One of the businesses outfitted with new solar panels is Whitey's Liquor Store in Lawrenceburg. Owner Brad Tebbe put 126 of them on the store's roof last October, following an installation of panels atop his Batesville store in the spring of 2017.
"We are very satisfied with the economic impact of our solar project on our business. The environmental impact is real and very gratifying as well," Tebbe says.
Solarize Indiana - Southeast encourages home and business owners to consider installing solar panels this year before incentives disappear. A 30 percent federal tax credit expires at the end of 2019. Businesses have additional incentives with a generous accelerated depreciation bonus in the first year. Additionally, Duke Energy customers will be able to lock in net-metering – where solar panel users can reduce their electric bills or actually make money by selling excess energy back to utility companies – until 2032.
Whalen adds that the Solarize Indiana Southeast's solar panel installer, Lohrum Electrical Company of Greensburg, does professional work and offers competitive pricing.
The regional team says it is now ready to expand to other parts of southeastern Indiana. Three solar information sessions have been scheduled. Each meeting will begin at 6:00 p.m. and run until about 7:15:
Wednesday, July 18 at Batesville Memorial Public Library
Wednesday, July 25 at Tyson Library in Versailles
Thursday, August 16 at the Lawrenceburg Public Library Depot Room
A reservation is requested by calling (812) 933-6514 or emailing cwhalenosf@gmail.com. Attendees should bring a copy of their current electric bill to help figure out how a solar energy system can meet your needs.
"At each of the solar information sessions, persons who are currently using solar energy will be present to share their experience with solar power and answer questions," Whalen says.