One-half of BHS Seniors earn a year of college credits before graduation.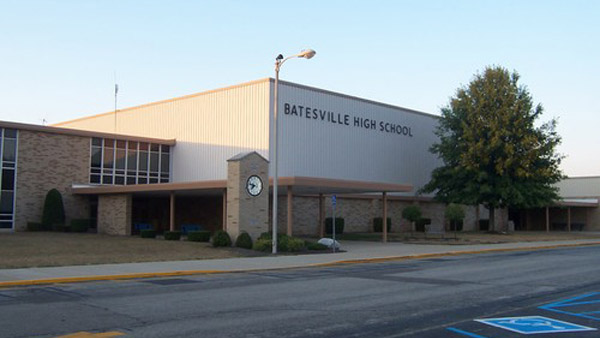 (Batesville, Ind.) - Through an innovative partnership with Ivy Tech in Batesville, one-half of Batesville High School (BHS) seniors graduating in May 2020 will also have earned enough credits to equal one full year of college—at virtually no cost to them.
With a steady upward trend in the number of BHS students earning an entire year's worth of college credits and unique work-based cooperative programs, the partnership between the Batesville Community School Corporation and Ivy Tech is a model for providing comprehensive career pathway options, according to Batesville Community School Corporation (BCSC) superintendent Paul Ketcham. Because the Ivy Tech course enrollment is provided at no cost to the student, each of them can potentially save between $15,000 and $20,000 on future college expenses.
"We are in the seventh year of this partnership with Ivy Tech and, each year, the program gets stronger," Ketcham said. "Others look to us as a model of how to make this work for students, both in regard to the opportunities offered and the cost (free except for textbooks).
"Next May, we expect 80 of our seniors—50 percent of the class—to earn 30 college credits, which is equal to one year of college," Ketcham explained. "If the students didn't have this opportunity and instead had to take those classes at a typical four-year institution, the total cost associated with them earning those credits could have approached $1.6 million. That savings proves that this is a worthwhile venture. Like other creative partnerships in Batesville, this cooperative funding effort by the City of Batesville, the school corporation, and Ivy Tech is yet another huge accomplishment for our small city."
Students interested in Ivy Tech programs may participate in two different ways. First, for those who plan to pursue further education after high school, Ivy Tech offers BHS students 16 different college-level courses, some taught at Ivy Tech and some at BHS. Thanks to the Statewide Transfer General Education Core (STGEC) program, credit for these classes is guaranteed to transfer to all public four-year colleges in the State of Indiana. Students earning 30 hours are often eligible to enter college as sophomores via this transferability agreement. This enables some BHS graduates to gain a college degree in just three years.
"We usually have about 170 juniors and seniors who are enrolled in an Ivy Tech class during any given academic year," Ketcham said. "Before this program started in 2012, students were lucky to have taken one or two college-level courses. Now, we're sending them to college as sophomores, at virtually no cost to them. That's an amazing accomplishment."
The Ivy Tech program also benefits those with a desire to either learn more about a certain type of profession or enter the workforce directly after high school, Ivy Tech offers three workforce readiness pathways that are unique to the Batesville campus: information technology, health care, and manufacturing. Students in these programs split their time between attending classes at BHS/Ivy Tech and working at a local business partner to receive on-the-job training. Workforce partners include Batesville Tool and Die, Heartwood Manufacturing, Batesville (Casket), Integrity Tool, Hillenbrand, St. Andrews, and Margaret Mary Health.
"These students also have the opportunity to earn certifications in their respective areas, which increases their employability," Ketcham noted. "And, as in the college credit scenario mentioned previously, the testing fees associated with certification are covered, thanks to annual funds donated by the Batesville Community Education Foundation (BCEF) for this exact purpose. Either path provides an enhanced educational experience at little or no cost to the student."
"As superintendent, I tell people that at Batesville Community Schools, we invest in people," Ketcham added. "These Ivy Tech programs are proof positive that not only do we invest in our students with our time and teaching, we literally invest money in our students so they can succeed after graduation. We're excited about what we've accomplished so far and look forward to this partnership with Ivy Tech continuing to grow in the years to come."