The only person who was shot was the teen who exchanged gunfire with police outside Dennis Intermediate School Wednesday morning.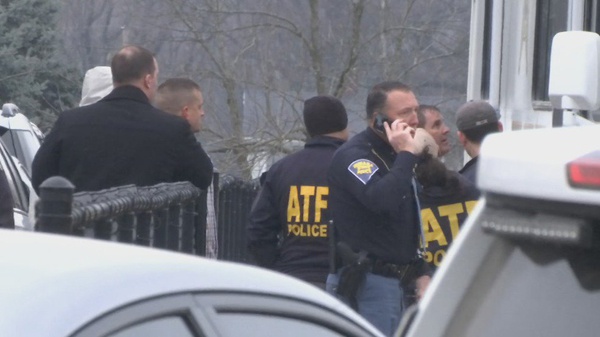 Teen suspect dead after active shooter situation at middle school in Richmond, Indiana. Photo by WKEF/WRGT.
(Richmond, Ind.) - Indiana State Police say a school lockdown procedure may have saved lives as a gunman entered a Richmond school Thursday morning.
The teenage suspect died during a shootout with police at Dennis Intermediate School. No other students or officers were injured.
Investigators with the state police have released a summary of the events at the school. At around 8:00 a.m., the Richmond Police Department dispatch center alerted area law enforcement agencies of a potential violent act that could occur at the school.
Officers from multiple agencies responded to the school, which had already been placed on lockdown. As officers arrived, they confronted the teenage suspect outside the school who then reportedly shot out the glass of a locked entry door to the school. The gunman ran inside with police officers in pursuit.
Inside the school, the suspected exchanged gunfire with police officers.
The teen died as a result of an apparent self-inflicted gunshot wound. State police said it has not been determined if the suspect was wounded by police.
"It is important to emphasize that due to the result of advance notification of the potential for a violent act at the school, the school had initiated their lockdown procedure which clearly prevented injury to students and faculty even though the suspect was able to enter the school," said ISP Capt. David Bursten.
ISP is continuing to investigate the school shooting. Bursten added that many of the questions the public may have right now are those police themselves are attempting to answer.
A press conference is scheduled for 1:30 p.m. at Dennis Intermediate School.
Indiana Governor Eric Holcomb was among those releasing statements about the shooting.
"Earlier this morning, I directed the Indiana State Police to work with all local responders at the shooting at Dennis Intermediate School. We will continue to work with the school and Superintendent Jennifer McCormick to do everything possible to assist the community and support all those impacted by this terrible unfolding situation," Holcomb said.
December 13, 2018
Update to Ricmond Dennis Middle school shooting event:
• All Students are safe and are presently at Richmond High School and are being released to parents in groups of 20
• Please be patient - plans for a news conference are in progress

— Indiana State Police (@IndStatePolice) December 13, 2018