Valeria Alcazar Crespo joined the OA community during the school's 2nd quarter.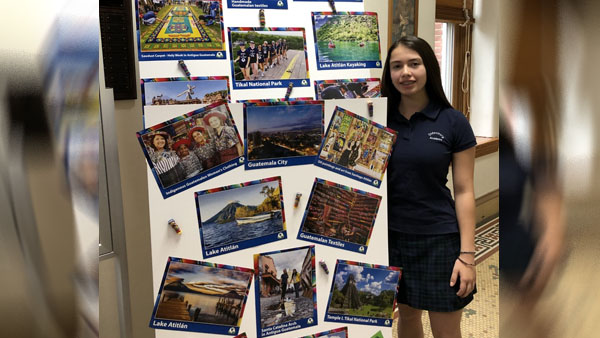 (Batesville, Ind.) - Oldenburg Academy (OA) recently had to say "goodbye" to foreign exchange student, Valeria Alcazar Crespo.
Valeria left her home in Guatemala to join the OA school community during the school's 2nd quarter.
Through the "Faces & Our Cultures" program that introduced OA and Valeria, the students were offered an enriching cultural exchange experience in an educational environment.
During her stay in the states, Valeria was welcomed by Hannah Fulton '21 and her family. The Lawrenceburg family offered their home throughout her stay.
Not only did she attend classes at OA, but she also worked to improve her English language skills, and shared various aspects of Guatemalan culture including geography, foods, business, language, history, and other cultural components.
To get involved with extra-curricular activities, Valeria joined the OA cheer team.
Over the summer, OA students will now be able to visit Guatemala for 2 or 3 weeks.
Oldenburg Academy hopes to continue the exchange program next year.