The U.S. Bank on Bank Street was robbed on November 25.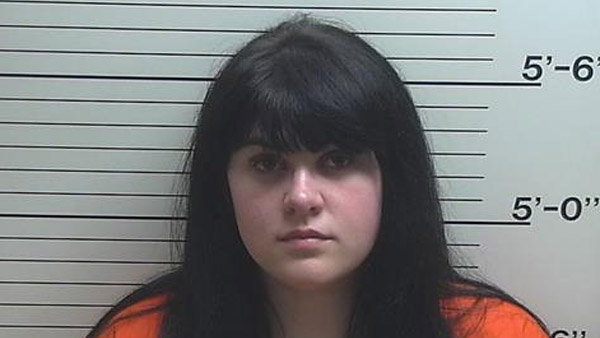 Samantha R. Wyatt. Photo by the Dearborn County Sheriff's Office.
(Dillsboro, Ind.) - Charges have been filed against a woman accused of robbing a Dillsboro bank.
Multiple law enforcement agencies responded to Bank Street on November 25 where a woman passed a note to a tell at U.S. Bank, reading "take everything out of the top and bottom drawer, and tell me to have a great day."
Shortly after the robbery, police released a photo captured from video surveillance.
An anonymous tip came in on Thanksgiving Day, stating that the robber may be Samantha Wyatt, 26, of Trenton, Ohio. The tipster also told police that the alleged robber drove a small, red compact car.
On December 2, Dearborn County Sheriff's deputies contacted the Butler County Sheriff's Office asking them to drive past Wyatt's last known address to in attempt to observe the vehicle described above. According to a probable cause affidavit, Butler County deputies not only found the vehicle, but they observed Wyatt entering the vehicle and leave the area.
Butler County deputies made a traffic stop and was subsequently interviewed about the robbery.
Wyatt told police she slept in the day of the robbery and that she did not leave the state of Ohio on November 25. She added she hadn't been in Indiana for about a year, when she last visited family in Ripley County.
Upon executing a search warrant on Wyatt's car, police say they located three money bands commonly used in banks to wrap certain amount of money. Two of the bands read $500 and the other $1000.
Wyatt's web history from November 29 showed her searching multiple websites looking for answers or responses to inquires about bank robberies. Police also located a search for directions to the U.S. Bank in Centerville and photos of Wyatt wearing the exact same shirt with denim/jean jacket worn by the suspect in the robbery.
On December 9, Wyatt was interviewed at the Dearborn County Sheriff's Office, where she allegedly admitted to robbing the U.S. Bank on November 25.
Wyatt told police she parked at a church nearby and took the registration plate off her vehicle. She went into the bank, passed along the note and made off with the money. She then drove a short distance and put her registration plate back on her vehicle and drove back to Ohio.
Wyatt is charged with Robbery (Level 5 Felony).
She is currently held in the Dearborn County Law Enforcement Center.
RELATED STORIES:
UPDATE: Police Seek Bank Robbery Suspect