The river level will soon begin falling.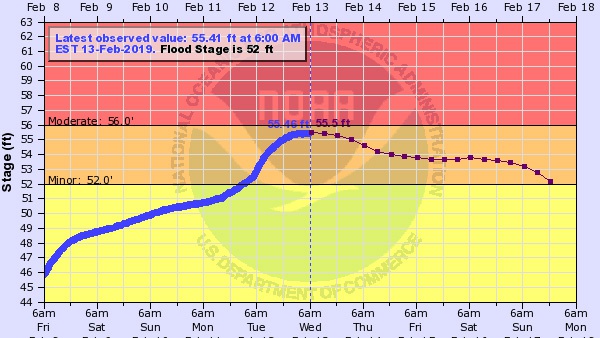 A model of the Ohio River level and forecast at Cincinnati by the National Weather Service.
(Aurora, Ind.) - The Ohio River is cresting Wednesday morning a little lower than anticipated, allowing some residents and businesses along the river to breathe a sigh of relief.
The river at Cincinnati reached 55.5 feet at around 6:00 a.m., just below moderate flood stage of 56 feet. Earlier river level models this week had forecast a crest of around 56.3 feet.
The Ohio River below Markland Dam will crest at 51.4 feet Wednesday night. Flood stage there is 51 feet.
The water will now slowly begin falling, and it may not go back below flood stage until early next week. A Flood Warning is in effect for areas along the river until then.
A number of local roads remain closed, including a section of State Road 56 in downtown Aurora. Eagle Country 99.3 is maintaining a running list of local road closures here.
The river is retreating even after the tri-state received a record amount of rainfall Tuesday. Precipitation of 1.2 inches recorded at CVG broke the previous record for February 12 set back in 1894, according to the National Weather Service.
Cincinnati and Columbus each set a record rainfall for February 12th. Cincinnati received 1.20 inches, which broke the old record of 1.14 inches in 1894. Columbus received 0.91 inches. This broke the old record of 0.77 inches set in 1930.

— NWS Wilmington OH (@NWSILN) February 13, 2019