Indiana's U.S. Senate candidates are getting help from the stars of their political parties.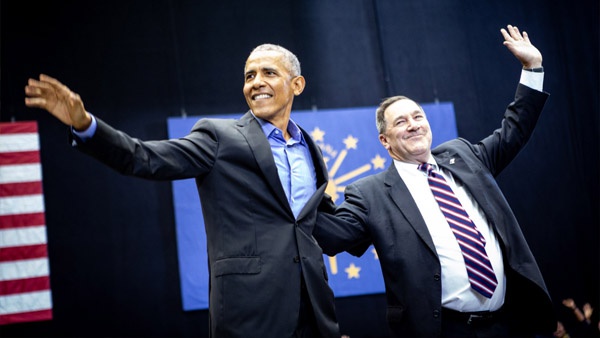 Former President Barack Obama appeared at a rally with Democratic Indiana U.S. Senator Joe Donnelly in Gary, Indiana on Sunday, November 4.
(Gary, Ind.) - Indiana U.S. Senator Joe Donnelly had a former president campaign for him in Gary on Sunday.
Former President Barack Obama drove from Chicago to give Donnelly, a Democrat, the support to beat Republican challenger Mike Braun in Tuesday's election.
"You get to vote in what I believe will be the most important election of our lifetimes," Obama told the crowd.
The former president says healthcare, a fair shake for workers, and character of the U.S. is on Tuesday's ballot.
Much of Donnelly's campaign advertising over the past month has been attempting to show voters he is a moderate Democrat willing to work with President Donald Trump and buck the party line.
"They can't hear you boo, but they can hear you VOTE, Indiana." – @BarackObama

Find your polling place at https://t.co/FtPN4DpJ96 and make your voice heard on Nov. 6. pic.twitter.com/wgxFZY3tZH

— Joe Donnelly (@JoeforIndiana) November 5, 2018
Braun's campaign is using Obama's appearance to align Donnelly with the former president and Hillary Clinton, who was beaten in the 2016 general election in Indiana by President Donald Trump by 19 percentage points.
"After joining the angry liberal mob against Supreme Court Justice Brett Kavanaugh, Mexico Joe Donnelly is doubling-down with the liberal resistance movement by campaigning with Barack Obama. While Hoosier job creator Mike Braun proudly stands with President Trump, it's Mexico Joe Donnelly who has supported Obama's Iran nuclear deal, served as a superdelegate for Hillary Clinton and stands with Barack Obama's liberal philosophy," said Braun campaign spokesman Josh Kelley.
Meanwhile, Braun will get a last-minute boost from the sitting president. President Donald Trump will headline a rally at the Allen County War Memorial Coliseum in Fort Wayne at 6:30 p.m. Monday.
We set up outside Barack Obama's last-ditch effort to save @JoeforIndiana's campaign to remind Hoosiers when they try to take credit for President Trump's booming economy, Donnelly is the Resistance-approved, say anything, do nothing, blowin' in the wind Democrat Senator. #INSen pic.twitter.com/vJQzaEPZGH

— Mike Braun (@braun4indiana) November 4, 2018