The governor signed HB 1296 into law on Monday.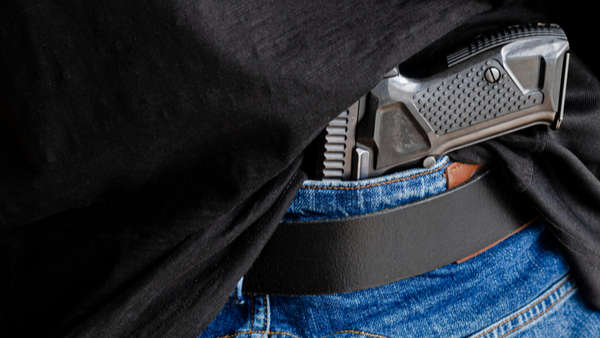 Shutterstock photo.
INDIANAPOLIS – Governor Holcomb signed three bills into law on Monday, including a firearm matters bill.
The signing of House Bill 1296 repeals the law that requires a person to obtain a license to carry a handgun in Indiana. A similar bill was recently passed into law in Ohio.
Governor Holcomb issued the following statement regarding the new law:
"The Second Amendment has been debated for years, yet time and again our U.S. Supreme Court has reaffirmed this important constitutional right that I fully support. Twenty-three other states have laws comparable to HEA 1296. Vermont has had a constitutional carry law in place since it became a state, and several other states have had a similar law for more than a decade. HEA 1296, which I've signed today, entrusts Hoosiers who can lawfully carry a handgun to responsibly do so within our State. It's important to note that if a person is prohibited, under federal or state laws, from possessing a firearm before this law goes into effect, that person will still be prohibited. And if a prohibited person has a firearm, he or she can be prosecuted. Firearm permits will remain available, without fee, to anyone who wants or needs one, such as Hoosiers desiring to carry a firearm to, through or in another state that has reciprocity with Indiana."
Furthermore, HB 1296 makes theft of a firearm a Level 5 Felony.
How local State Senators and State Representatives voted:
State Senator Jeff Raatz (R-Richmond): Yes
State Senator Chip Perfect (R-Lawrenceburg): No
State Senator Jean Leising (R-Oldenburg): Yes
State Rep. Randy Frye (R-Greensburg): Yes
State Rep. Randy Lyness (R-West Harrison): Yes
State Rep. Cindy Ziemke (R-Batesville): No
Indiana State Police Superintendent Doug Carter's thoughts on the signing of HB 1296.
"As Superintendent of the Indiana State Police, I have pledged my continued commitment to Governor Holcomb to work toward solutions enacting HEA 1296. I, like Governor Holcomb, feel enormous responsibility for front-line law enforcement officers. I will work with law enforcement leaders across our state to make necessary changes to firearms enforcement as well as identifying the best way to identify individuals who are not allowed to carry a firearm as defined by Indiana statute."
"We will continue to encourage citizens to apply for, and maintain, a firearms permit. A permit will assist law enforcement officers and will also allow a permit holder reciprocity with other states."
Indiana Democratic Party Chairman Mike Schmuhl also weighed in:
"A majority of Hoosiers told Indiana Republicans directly they opposed permitless carry. State law enforcement echoed their opposition to the measure a year after Republicans defunded their departments. But unfortunately, Governor Eric Holcomb decided to put politics ahead of protecting the safety of Hoosier families by signing permitless carry into law.
Rising crime rates will now fall directly on the Indiana Republican Party's shoulders, because buying firearms will be like buying candy at a gas station. It's important to stress that Democrats are doing everything possible to equip our first responders with investments needed to combat crime - thanks to the American Rescue Plan - but it appears the Indiana GOP's culture wars will now create a reality where Hoosier families will lose loved ones due to a clearly preventable problem."
House Bill 1296 takes effect July 1, 2022