The fire broke out just before 4:00 PM Wednesday.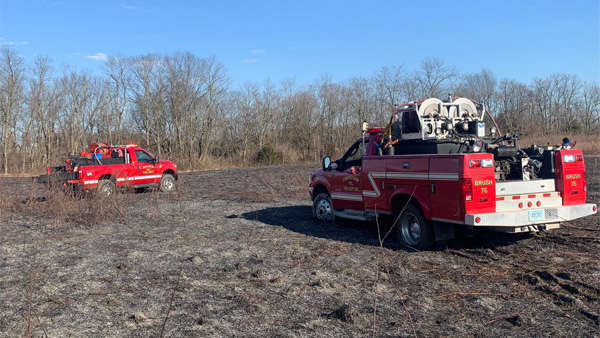 Photo by Friendship Volunteer Fire Department.
(Dillsboro, Ind.) – Multiple agencies responded to a brush fire Tuesday afternoon in Dearborn County.
Friendship Volunteer Fire Department was dispatched to assist Dillsboro Volunteer Fire Department on Grelle Road around 3:56 p.m.
According to FVFD, several acres were burned but no damage was done to nearby structures.
Additionally, no injuries were reported.
Dillsboro Fire Lt. Kevin Turner provided the following information.
"Wind measurements from the Cincinnati/ Northern Kentucky Airport showed winds suddenly increasing around the time the fire was reported with a high wind gust of 18 mph that may have contributed to the fire's spread. The fire's cause is accidental. In all, 10 fire apparatus responded with around 20 fire fighters. The quick gathering of personnel and equipment and interagency cooperation was instrumental in the quick extinguishment of the fire. Fire crews were scene for about an hour putting out hot areas, and the area of Grelle Rd. where the incident took place was closed during that time."
Milan Volunteer Fire, Aurora Volunteer Fire and Aurora EMS assisted at the scene.
Local farmers helped as well, by pulling fire trucks out of the field.