The crash happened in Batesville on August 7.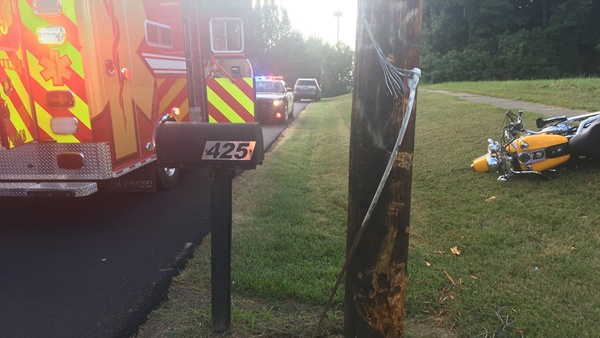 Photo by Batesville Police Department
(Batesville, Ind.) – A Batesville man was seriously injured, but was expected to survive following a motorcycle crash last week.
Samuel T. Eckstein, 43, was operating a 2000 Harley-Davidson motorcycle heading northbound on the 400 block of Huntersville Road at around 6:28 p.m. Wednesday, August 7, according to Batesville Police Department. As he attempted to negotiate a turn, the motorcycle went off the right side of the roadway and slid through grass before striking a utility pole.
Eckstein was thrown from the motorcycle. He was not wearing a helmet, officers said.
Eckstein was treated by Batesville EMS before being flown to University of Cincinnati Medical Center with serious but non-life threatening injuries.