"Peer Mediators" use a proactive approach to address and resolve student conflict before the conflict escalated into violence.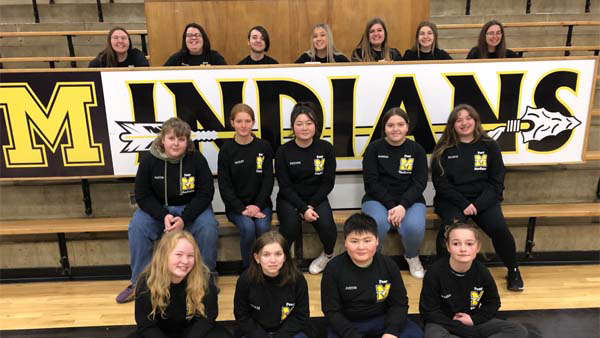 Student Wellness Team-Top Row L-R (High School)-Allison Doyle, Melissa Frankenberry, Aiden McFarland, Madison Cavins, Maddison Smith, Haley McKeown, and Hanna Davies. Middle Row L-R (Middle School)-Austin Smith, Hailey Pippin, Kaitlyn Hicks, Marissa Farrell, and Ryleigh Goodlett. Bottom Row L-R (Intermediate School)- Izabella Russell, Devan Rothbauer, Justin Hicks, and Makiah Stamper. Photo provided.
(Milan, Ind.) - Late last spring Milan Community Schools was awarded a $12,000 grant through the Indiana Department of Education. The grant was part of the Stop the Violence initiative to serve as a proactive program to reduce bullying, fighting, and violence in Hoosier schools. Milan Community Schools was one of only eight schools statewide to be awarded this grant.
At the beginning of the 2021-22 school year, students were selected to become "Peer Mediators" as a proactive approach to address and resolve student conflict before the conflict escalated into violence. Students were given the opportunity to apply for the team and teachers also made recommendations. Students went through an interview process and 16 were selected. There are seven high school, five middle school, and four intermediate school peer mediators.
After students were selected, they received eight hours of Peers Making Peace training in November from the Peace Learning Center in Indianapolis. The training covers the stages of peer mediation as well as the requirements of performing a structured mediation. Mediators follow a strict protocol and script while conducting a mediation session and much of the training focused on active listening skills.
Statistics show schools with student mediation programs see a significant reduction in bullying, hurtful words, and fewer discipline referrals to administrators. Much of the success of a program such as this is attributed to the fact that it has students mediating conflict between other students. Students seem to relate to and trust peers over an authority figure such as a principal or other administrator. It is important to note these students are not counselors, but mediators.
The program actually launched in mid-January and there have already been several successful mediations. The program is being supervised by Stephanie Schwing-Stamper, Student Support Services Director and Noel Houze, School Resource Officer