The world competition will be held in May in Dallas, Texas.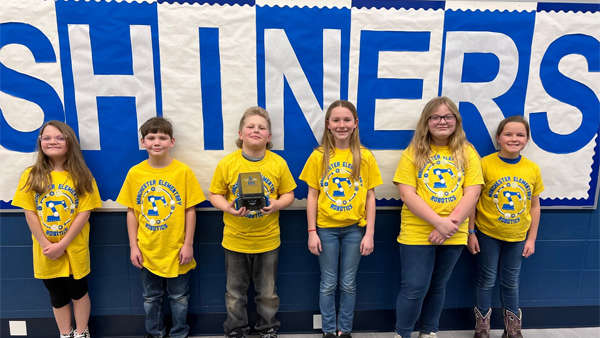 Manchester Elementary School robotics team. Facebook photo.
Update published Wednesday, April 6:
The Manchester Elementary School robotics team needs your help to cover travel expenses to the VEX Robotics World Championship in Dallas, Texas.
The team needs $5,000 in donations to cover the necessary expenses including $1,200 registration fee, hotel rooms, and transportation.
Combs Pizza in Aurora will host a fundraising event on Wednesday, April 13 from 4:00 to 9:00 p.m. During that time, a portion of sales will be donated to the robotics team. Combs Pizza will also have a bake sale at the same time.
For those unable to attend, donations can be made by making checks payable to Manchester Elementary School. Names of businesses, organizations, and individuals who make contributions will be added to the team's banner which will travel to Dallas, Texas with them.
Original story published Tuesday, March 29:
(Manchester, ind.) - A strong performance in driving and programming skills has earned six students from Manchester Elementary School the opportunity to compete against teams from all over the world.
The TechPoint Foundation for Youth hosted the annual VEX Robotics State Championship on March 12 at Lucas Oil Stadium in Indianapolis.
A total of 274 teams from elementary, middle, and high schools across the state competed at the event, including the robotics team from Manchester Elementary School.
In the VEX IQ Challenge, students, with guidance from their teachers and mentors, build a robot using simple, snap-together VEX IQ parts to solve an engineering challenge that is presented each year in the form of a game. Teams work together to score points in Teamwork Matches and get to show off their skills individually in driver-controlled and programming Robot Skills Challenges.
The team of Piper Cole, Charleigh Fox, Wyatt Heeman, Jade Miller, Teagan Pfaffl, and Dominic Shepherd worked hard to improve their state ranking from 165th to 26th.
The state ranking was high enough to earn the team an invite to the world competition in May.
The VEX Robotics World Championship is scheduled for May 3-12 in Dallas, Texas. Elementary schools are slated to compete May 10-12.
For more information visit, VEX Robotics World Championship 2022 (roboticseducation.org).