An estimated 1.5 million high school students in the U.S. suffer physical abuse from a dating partner each year.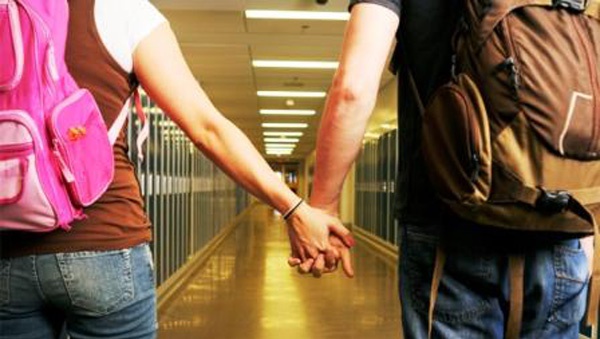 (Indianapolis, Ind.) - Young love often eventually fades, but for some teens, it can turn violent. An estimated 1.5 million high school students in the U.S. suffer physical abuse from a dating partner each year.

February is Teen Dating Violence Awareness Month, and multiple groups are taking the opportunity to educate teens about healthy relationships. Melissa Iannuzzi, communications coordinator with the Indiana Coalition Against Sexual Assault, said most abusive relationships involve some sort of jealous or over-protective behavior from one partner.

"Kind of an abuse of power, when you think about the way that works," Iannuzzi said. "If someone's trying to control someone too much on social media, in person, that sort of thing, I think that's a red flag. Any time there's a big power inequality between the two parties that's kind of where the abuse starts to happen."

While physical attraction may ignite a relationship, Iannuzzi explained respect, trust, consent and open communication are all crucial to keeping it healthy. Teen dating violence can take the forms of physical, sexual, verbal and emotional abuse. And it can lead to depression, alcohol or drug abuse, negative body image and poor school performance.

Iannuzzi said it can be difficult for a victim to open up about abuse, especially a teen who fears she or he won't be believed. She encourages parents to be as supportive as possible and to not place blame.

"You know how teenagers are, they're very rebellious, and just telling them their relationship is wrong isn't the best way to reach them," she said. "It's not shoving it on them so much as allowing them to be listened to and to be heard and to feel like they are worthy of respect."

There also are many organizations that victims of teen dating violence can contact for support, says Heather Frederick with the National Domestic Violence Hotline.

"Because we know how difficult it can be to have those conversations with parents or teachers, or other people - even just to have those conversations face to face," Frederick said. "The option to do it over the phone, or through chat or text, is a lot more comfortable for younger people."

Help is available online at loveisrespect.org or by texting 22522. The hotline number is 866-331-9474.