The quilt was presented to George Shelby on Thanksgiving Day.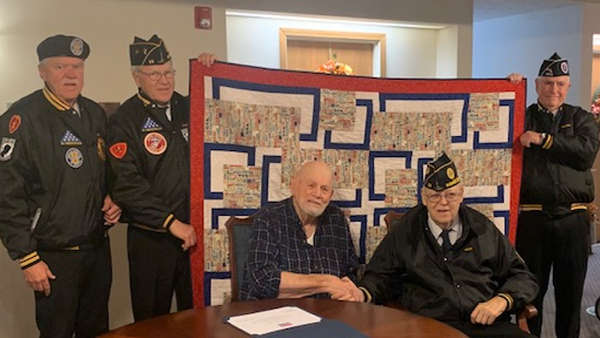 (Left to right): PG Gentrup, Ron Spurlock, George Shelby, Mike LaFollette and Ralph Cole. Photo provided.
(Logan, Ind.) - A member of America's Greatest Generation was recently honored with a Quilt of Valor.
George Shelby, a current resident of Logan, Indiana, received his Quilt of Valor on Thanksgiving Day.
The quilt was presented by Rivertown Quilters and Sheila Stevenson. PG Gentrup, Ron Spurlock, Mike LaFollette and Ralph Cole were also present.
Shelby, 98, is a World War II Veteran who proudly served in the U.S. Navy from 1943-1946 as an Electrician's Mate 2nd Class aboard the USS Counsel AM165 at Saipan and the USS Gadwell AM36E.
For his service, Shelby was awarded the World War II Victory Medal, American Theater Medal, Navy Good Conduct Medal and the Asiatic-Pacific Medal.
Following his service, Shelby resided in Manville, Ohio for many years and retired from Formica in Sharonville in 1983.
"George is a true American Patriot and is proud of his service to our great nation and those he served with," said PG Gentrup.