The summer games take place June 9-11 at Indiana State University and Rose Hulman.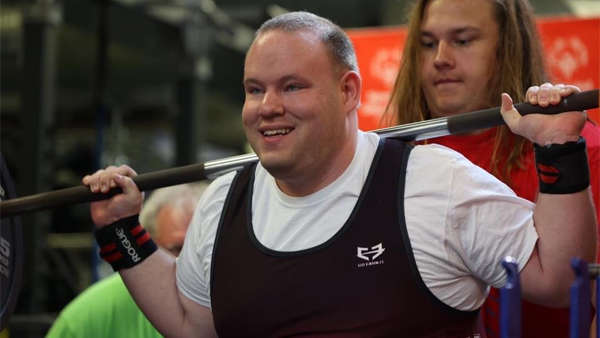 David Paul, of Milan, competing in Powerlifting at the 2022 Summer Games. Photo provided.
Get ready to witness the extraordinary talents and unstoppable spirit of our local Special Olympics athletes as they gear up for the highly anticipated 53rd annual Summer Games of Special Olympics Indiana! With months of dedicated training and unwavering determination, the delegation from Special Olympics Indiana – Ripley Ohio Dearborn Counties, consisting of 64 exceptional athletes, 12 Unified Partners, 14 passionate coaches, and 15 dedicated team members, is ready to take the stage.
Prepare for an electrifying experience from June 9th to 11th as over 2,000 athletes, including 179 Unified partners, 311 coaches, and 677 delegation members from all corners of the state, gather at the prestigious campuses of Indiana State University and Rose Hulman Institute of Technology. This remarkable event is set to showcase three days of intense competition, awe-inspiring achievements, heartwarming friendships, and joyous celebrations.
Embracing the theme "Everyday Champions," inspired by the remarkable film "The Best We've Got: The Carl Erskine Story," this year's Summer Games will honor the remarkable journey of Carl Erskine, who exemplifies what it means to be an everyday champion. Carl's profound impact goes far beyond his triumphs on the field, as he champions acceptance, leadership, and inclusion through his small, everyday actions within his community. Prepare to be inspired as Carl encourages everyone to follow his lead and make a difference.
In a true display of champion spirit, the Games will feature a wide range of Olympic-type sports, including bocce, bowling, cycling, powerlifting, swimming, track and field, and volleyball. Our local delegation is shining bright, with 5 awe-inspiring athletes competing in powerlifting, 9 remarkable swimmers, 11 incredible track and field athletes, 11 unstoppable volleyball players, and a staggering 40 exceptional bowlers ready to make their mark.
But the Summer Games go beyond the thrill of competition. Athletes will also have the opportunity to benefit from Special Olympics' Healthy Athletes® program, which offers free screenings for eyes, hearing, and dental health. In an environment designed to provide comfort and support, these screenings aim to alleviate the anxiety and fear often experienced by individuals with intellectual disabilities during medical visits. Athletes requiring further care will be referred appropriately, and those in need of eyeglasses will even have the chance to receive a complimentary pair. Special Olympics' mission to enhance athletes' health and fitness ensures an all-encompassing experience that promotes overall well-being.
Prepare for an unforgettable Opening Ceremony on Friday night, where our delegation will shine proudly. Special Olympics athlete Charlie Wilson will kick off the festivities with a breathtaking rendition of the National Anthem, while Coach Tito Castillo will inspire all with the Coaches Oath. It's a moment that will fill the air with anticipation and excitement!
None of this would be possible without the tremendous support from our local community. Through year-round fundraising initiatives like the upcoming Fire Truck Pull in August and the incredible Knights of Columbus Summer Games Fund, we have successfully raised a staggering $13,640 to cover the cost of room and board, as well as games registration. A special thanks goes to the Knights of Columbus for their generous contribution of $7,344 from the Summer Games Fund.
Get ready to witness the thrill, the passion, and the incredible accomplishments of our local Special Olympics athletes as they embark on this unforgettable journey at the Summer Games. It's an event that will leave you inspired, uplifted, and filled with admiration for these everyday champions. Join us as we cheer them on, celebrate their triumphs, and create memories that will last a lifetime.