An in-person and virtual presentation was given last week about a planned State Road 101 extension.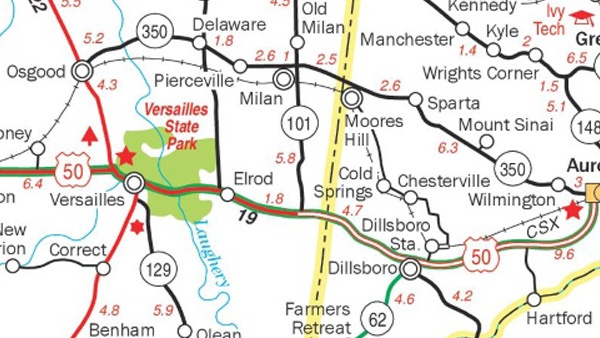 (Vevay, Ind.) – The Link 101 Project Team is seeking public input.
Last week, Link 101 gave an in-person and virtual presentation to further explain project information for an improved State Road 101 connection between the Markland Dam in Vevay and U.S. 50.
A State Road 101 extension is expected to improve connectivity in southeastern Indiana and provide more direct access to Interstate 71 and U.S. 50.
Currently, the project is in the environmental and preliminary design stage. The process of identifying a selected alternative is expected to take about three years, and a timeline for construction will be determined at the end of the environmental study.
In addition, the project team is analyzing existing transportation, land use, socioeconomic, environmental, cultural, noise, environmental justice and other conditions surrounding the construction of a State Road 101 extension.
The preliminary project need includes:
Travel time and distance between Markland Dam and U.S> 50
High crash locations
Geometric deficiencies of existing routes
Flooding of Laughery Creek crossings create access and safety issues
Existing roadways located in slide-prone areas create access and safety issues
Currently, the existing fastest and shortest route between Markland Dam and U.S. 50 is SR 156 to Markland Park to Cass Union to SR 262.
Area residents can share their feedback by completing a comment form and sending it to the Switzerland County Technology and Education Center, 708 W. Seminary St., Box #8, Vevay, IN 47043
Project materials will be at the following locations through February 17:
Completed comment forms can be mailed to the project office or residents can pick up and complete forms or drop off completed forms to the project office.
For more information on the project, visit www.Link101Corridor.com or watch the presentation below.
.